Sick of living in constant fear that bits of roof are going to fall on their heads, office workers in a dilapidated Government building in Bihar, India, were forced to wear metal motorcycle helmets at all times.
A video showing four office workers trying to do their job while wearing motorcycle helmets went viral on Indian social media last month, once again bringing into discussion the poor working conditions in the Asian country. The footage was quickly picked up by news outlets and investigations revealed that the Government building in Areraj, Champaran district, had been deemed declared dangerous by work  safety inspectors two years ago, but no action was taken to move the workers to a safer location.
"The building construction department had two years back declared the building is hazardous and unfit for use. The authorities have, however, found no alternate accommodation to shift the office," employee Amit Kumar Pandey told reporters. "The situation has aggravated due to rains as the entire building leaks, compromising the safety of office equipment and records. The matter has been communicated to senior officers many times in writing, but to no avail."
But water trickling in through the roof is not what prompted employees to start wearing motorcycle helmets at the Government office. Parts of the roof have been falling on their heads for some time, and it's now in such a bad state that it could come down any day.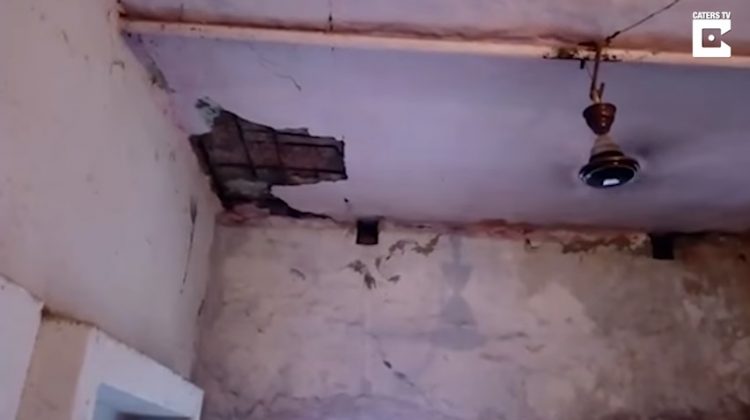 "This is quite an old building. Walls and the roof of the building are in a very bad shape. Water starts trickling the moment it rains. The roof can cave in any day," said Parvez Ahmad, who works in the building. "Since we can't be absent from our duties, we all decided to wear helmets. Many employees have sustained injuries due to falling of plaster from the ceiling."
After the video went viral, local Government officials announced that the office would be moved as soon as possible, but added that the four workers featured in the footage have been issued show-cause notices for going to the media, instead of trying to solve the problem internally.
"The office will be shifted to a safer place within a day. We had ordered shifting of offices immediately after the adverse report from the building division, but the process got delayed. We have already issued a show-cause notice to the concerned official, asking him to explain the reason for delay in shifting," a senior official said. "Show-cause notices had also been served to the four employees in the video for taking their problem to the media and not apprising their seniors."