A Malaysian man is protesting what he claims was an unjust termination from oil giant Chevron Malaysia Limited (Caltex) by supergluing his hand to their headquarters floor.
Fadzilah Abdul Hamid worked as a Caltex petrol station operator for the past 17 years at two sites in Kelana Jaya and Kampung Subang, Selangor, until being served an unexpected notice in May ordering him to vacate both locations within 30 days. The letter claimed that his termination was due to unpaid charges outlined on a circular regarding the Implementation of Self-Service at Petrol Stations.
Photo: Muhamad Yusuf Azmi/Facebook
However, Muhamad Yusuf Azmi, a social activist representing Hamid, refuted the letter's claims via Facebook. The Domestic Trade, Co-operatives and Consumerism Ministry, explicitly stated in the circular that "all costs for implementing self-service including the set-up of automatic devices and calibration of those devices are to be borne fully by the oil company, and no direct or indirect charges are to be made by the petrol station operators".
Hamid tried to object his wrongful termination through official channels but never received a response from the company. On November 21 he went to the Caltex headquarters in Kuala Lumpur in an attempt to meet with officials, but they ignored him again. That is when Hamid decided to take the drastic measure of gluing his hand to the floor.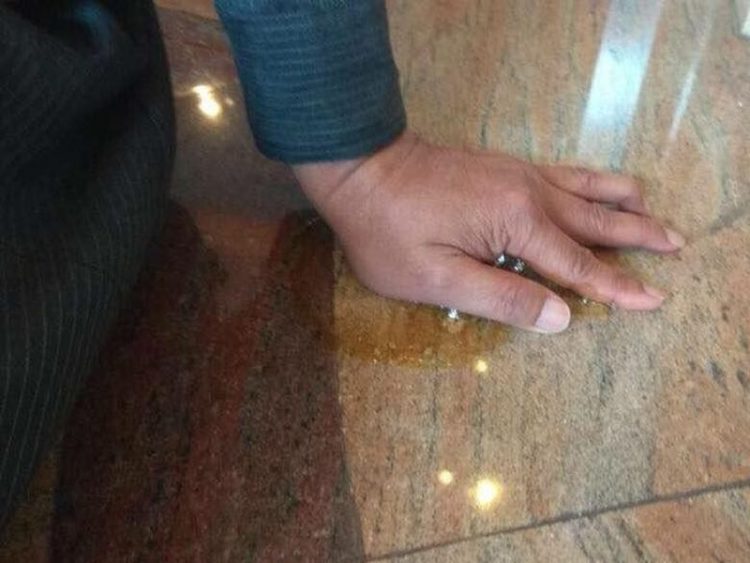 Photo: Muhamad Yusuf Azmi/Facebook
"The operator Fadzilah Abdul Hamid turned up at 11 am to meet the company's upper management, but until 3.30pm, not a single representative met him," Azmi told Malay Mail Online. "Until today, after 175 days since the date of the termination claim, no response has been received."
Azmi has also shared photos of Hamid's protest against Caltex on Facebook, while Hamid's wife brought food and other supplies to support him. Azmi's translated caption reads, "My heart hurts when I see Fadzilah and his wife resorting to these measures."
Photo: Muhamad Yusuf Azmi/Facebook
"It's so sad because the authorities have not taken action against Chevron. They have broken their promises towards him. I appeal to the Ministry of Domestic Trade, Co-operatives and Consumerism (KPDNKK) or any other party to help this citizen in need."
According to the activist, Hamid is only one of several other Caltex operators who had repeatedly asked the oil company to review the charges, but he is the first to take such direct and desperate action.