A Utah man recently flew a small Cessna airplane into his own house, with his wife and her son still inside, after being arrested on charges of domestic violence.
The bizarre incident took place on Monday, but police sources said that the cause was most likely a domestic dispute between Duane Youd, a professional airplane pilot, and his wife, near American Fork Canyon, about 35 miles south of Salt Lake City. On Sunday evening, the Utah County Sheriff's Office received calls from several witnesses about a man hitting a woman, and a police patrol took Youd into custody. He and his wife had apparently been drinking and an argument broke out and he started hitting her.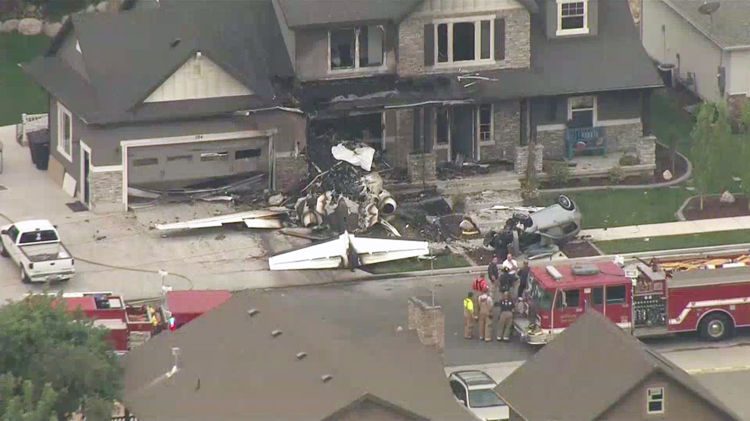 Photo: video screengrab
Duane Youd made bail on Monday morning between 12:30 a.m. and 1 a.m., and asked police if he could return to his home in Payton, Utah, to pick up some of his things. He was escorted there in a police car, after which it is presumed that he headed straight for Spanish Fork Airport, got in the Cessna 525 Citation Jet he usually piloted for a company, and flew back to Payton with the intention of crashing straight into his house.
"It just got lower and lower. I said 'Oh my gosh it's going to hit the mountain. It's going to hit the mountain. It's getting lower.' You can just see it getting lower. All of a sudden a huge ball of orange fire. I couldn't believe it," one of Youd's shocked neighbors described the crash.
The pilot's wife and her son were inside the house when the small aircraft came crashing down into it, but managed to get out before the ensuing fire spread. Investigators say that Youd clipped a neighboring shed before hitting his own house, which may have altered his trajectory.
"We don't know what his ultimate goal was, whether he meant to hit it low like he did or whether he meant to hit it higher," Sgt. Noemi Sandoval of the Payson Police Department said, adding that the incident "could have been so much worse than what it was" and that it was a "miracle" that Youd's partner and the boy could escape in time.
Somehow, the front of the house is still intact, although severely burned, but the plane was almost completely destroyed and Duane Youd lost his life.
Court records show that just last month Youd agreed to attend marriage and family counselling sessions for six months as part of a plea agreement after another domestic violence incident, in April. I guess he decided that wasn't going to work for him after all…