In what can only be described as one of the dumbest ideas by a criminal ever, a young Russian thief covered his face with green paint to make himself harder to recognize by potential witnesses. Spoilers – it didn't work.
Last weekend, police in the Russian city of Krasnodar arrested a 23-year-old man accused of stealing a woman's purse at a local train station. According to a statement by the Krasnodar office of the Russian Ministry of Internal Affairs, the victim notified police that her purse had been snatched while she was waiting at the train station, and a team was dispatched to investigate. Upon arriving at the scene, police officers started questioning eyewitnesses about the perpetrator and learned that he had a very distinctive, albeit unusual trait – his face was completely green.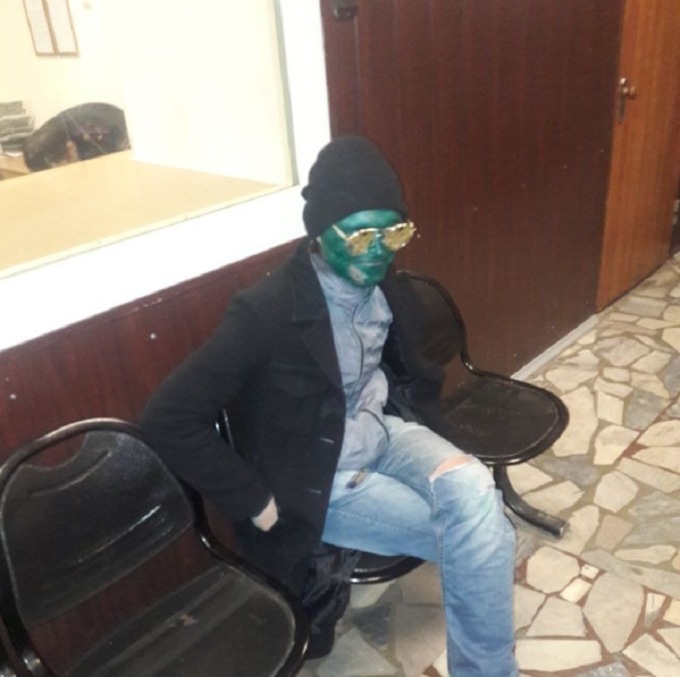 Photo: Russian Ministry of Internal Affairs
As you can imagine, a green-faced man sticks out like a sore thumb, even in a city of 750,000 people, like Krasnodar, so police had no problem locating and arresting the odd-looking criminal. In fact, the young thief was caught so fast that he didn't even have time to get rid of the purse, so all of the victim's belongings were returned to her.
The strangest part of this story is that during questioning, the 23-year-old thief told police that he had intentionally smeared green paint on his face to make himself harder to recognize… I guess he learned the hard way why most of his fellow thieves prefer masks, or even socks with eye holes cut into them, anything that conceals the face but is also easy to get rid of. Paint, unfortunately, doesn't work very well.
The green-faced thief was charged with petty theft and is facing jail time.