Chinese companies have been known to subject their employees to some of the most unusual and degrading punishments imaginable, but this latest one takes the cake. According to recent new reports, a company Hanzhong, Shaanxi province, decided to punish who failed to meet their sales targets by feeding them a disgusting cocktail of baijou liquor and live mealworms.
The degrading punishment was reportedly carried out in in a plaza in downtown Hanzhong, where 60 company employees were summoned for an outdoor meeting. Witnesses took to the internet to report that the group of young workers was approached by a a man carrying bags of live mealworms, who proceeded to pick various numbers of them with chopsticks and drop them in plastic cups full of baijou. Employees who had failed to reach their sales quota were asked to step forward and drink the gag-inducing cocktail.
Five or six poor-performing employees were reportedly asked to drink the worm-infested baijou in front of their colleagues. One of the employees, who chose to remain anonymous, later told the Huashang Daily newspaper that each of the "offending" workers had to swallow four worms for every client they lost.
One of the recipients of the brutal punishment was a pregnant woman, who refused to drink the cocktail for fear of losing the pregnancy. "I can't eat worms now, I can't drink either, unless I don't want my baby," she reportedly told the sales manager. Eventually, a male colleague received the cruel punishment on her behalf.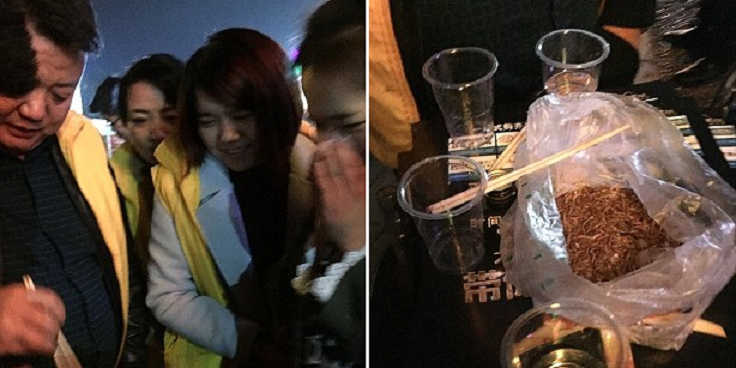 Read More »