An elderly couple in Haikou, China's Hainan Province, have been sharing their home with a 60 kilogram, 3.7-meter-long python for seven years, raising it as their child and even taking it for walks around their neighborhood.
68-year-old Shi Jimin, a retired meat processing worker, adopted the python in 2009, to save it from certain death. A fish and snake vendor had come by his workplace, and managed to sell his entire supply, except for a small 30-cm long snake that no one had wanted. The man had said that if no one was interested, he was just going to get rid of it, which is when stepped in and asked the vendor how much he wanted for the reptile. Shi says that he eventually got it for free, as the man was just going to kill it or throw it away somewhere anyway. So he took the young snake home to his wife, not knowing that it would grow up into a cattle-eating behemoth.
But even after realizing that they had adopted a python, the elderly couple had no problem sharing their home with their pet, which they consider more as a child. In the last seven years it has grown to an impressive 3.7 meters and weighs around 120 pounds. But experts say it's still young and bound to get even bigger. Still Shi and his wife are not concerned for their safety, and allow the snake to freely slither around their home during the day. It often sits on their laps as they watch TV together, or just finds a comfortable spot and sits there like a good boy. In they evening, the couple give the snake a warm bath, and before going to bed, they take the python to his very own bedroom.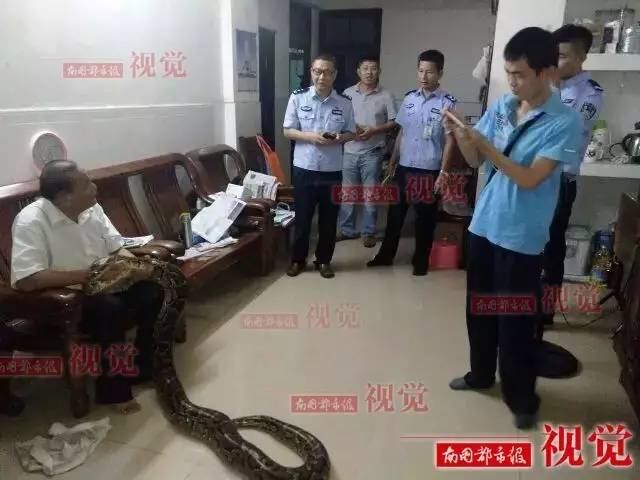 Read More »