Perched on the ridge of the Don Sheldon Amphitheater of Denali's breathtaking Ruth Glacier, in Alaska, and reachable only by air, Sheldon Chalet is famous as the world's most remote hotel.
Alaska's Denali National Park stretches six million acres and is a shelter for grizzly bears, caribou, moose, wolves and other wildlife. It's one of the most beautiful places you can visit in the United States, but also one of the most inaccessible. For example, the Don Sheldon Amphitheater, a glacial valley situated at an elevation of 6,000 feet (1,829 meters), was once only accessible by ski-equipped plane, but after the completion of the luxurious Sheldon Chalet, private helicopter rides also became an option.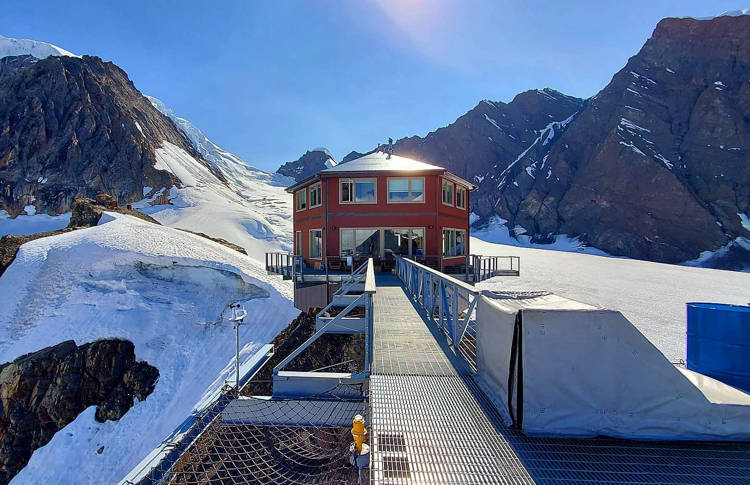 Photo: Sheldon Chalet/Facebook
The Sheldon Chalet, named after the father of two of the chalet's owners, Robert and Kate Sheldon, was built in 2018, and immediately made news headlines both for its inaccessible location and the spicy price of a 3-night stay. Offering complete privacy away from the stress of urban life, Sheldon Chalet is the perfect retreat for those who can afford to visit.
The minimum 3-night stay at Sheldon Chalet costs $35,000 per couple and includes helicopter shuttle service, a private concierge, gourmet dining, and activities such as sledding, glacier trekking, and mountaineering. It's not the sort of experience everyone can afford, that's for sure, but if money's not a problem, staying at the world's most remote chalet is definitely something worth your bucket list.
Sheldon Chalet can accommodate up to 10 people at any given time, offers breathtaking views of its snow-covered surroundings during the day, and of the aurora borealis at night. Daytime activities include rappelling, glacier trekking, visiting a mastodon boneyard, and fishing, while during the night, you can use the rooftop sauna, stargaze, or sample the dishes prepared by Alaskan chef Dave Thorne.
"My mom and dad were people worth remembering, but their desire for this property had nothing to do with their own legacy. They just wanted other people to experience this place that's majestic beyond anything else on the planet," Robert Sheldon told the Chicago Tribune.
Getting the permits to build Sheldon Chalet took over a decade, and I can't imagine how tough flying the necessary materials to this isolated place must have been, so I guess that $35,000 price stage is somewhat justified. Still, it's not for everyone.