Among the rolling hills and vineyards of the Tuscan countryside lies one of the most stunning tourist attractions not only in Italy, but in the entire world – a cascade of white limestone pools overflowing with warm, turquoise water known as Cascate del Mulino.
Translated as "Waterfalls of the Mill" in Italian, this surreal-looking natural wonder is located on the grounds of an old mill, just a few kilometers outside of the village of Saturnia. Since the time of the Roman empire, people have been coming here to have various ailments cured by the special water of the underground springs in the area, which is rich in sulfur and other minerals. But nowadays, Cascate del Mulino has become a popular destination for tourists and Instagram travel influencers, offering both stunning views of the surrounding Tuscan countryside and attention-grabbing social media pics.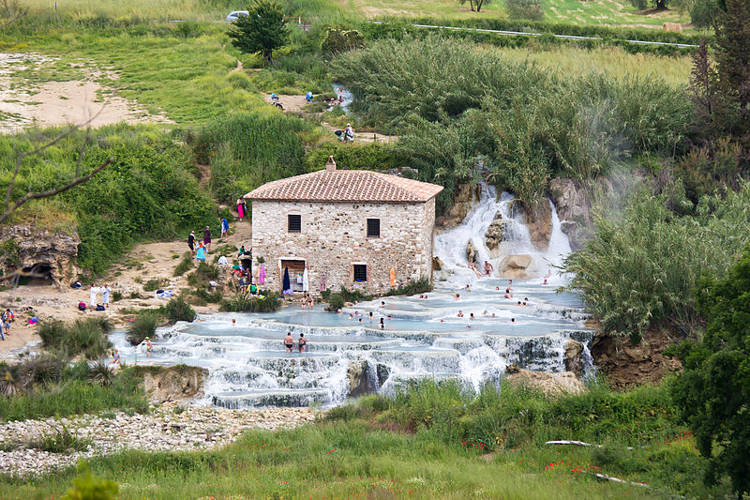 Photo: Raymond Spekking/Wikimedia Commons (CC BY-SA 4.0)
Also known as the "Cascatelle di Saturnia", this incredible place really looks like a paradise, as cliché as that may sound. The cascading white pools with their inviting turquoise waters flowing at a constant 37 degrees Celsius, steaming on a chilly morning look like something out of a fairytale or a dream. It is also one of the few free natural spas in Tuscany, making it an unmissable stop on a holiday in this Italian region.
View this post on Instagram
The waters of Cascate del Mulino flow year round and, in fact, it's recommended to visit the Cascatelle in late fall or even winter, in order to avoid large crowds. The water maintains a constant temperature of 37 degrees Celsius no matter the season.
View this post on Instagram
Legend has it that the Cascate del Mulino were formed by bolts of lightning that missed their target after Jupiter threw them at Saturn. Looking at the beauty of this place, it's not that hard to believe that it was a god's handiwork.
View this post on Instagram
Saturnia's spas have an ancient history. The Ethruscans were the first to build a bath here and a temple to thank the gods for this gift. Then the Romans seized the area and built the first public bath in history, Aurinia, in the center of Saturnia.
View this post on Instagram
The pools at Cascate del Mulino are not deep enough to swim in, like the ones at the larger Terme di Saturnia spa, but if you're looking to just lie in the warm, turquoise water and take in the pristine Tuscan countryside, this place is definitely the one you want to visit. Plus, it's completely free, while the Terme has an entry fee.
View this post on Instagram
View this post on Instagram
View this post on Instagram
View this post on Instagram
View this post on Instagram