Tokyo's Shin Obuko neighborhood recently became the home of what will undoubtedly become one of the most popular cafes in the Japanese capital – 2D Cafe, a place that lets you feel like you're in a real-life illustration.
Most likely inspired by the success of Cafe Yeonnam-dong 239-20, the Seoul-based cafe that went viral around this time last year, the new 2D Cafe relies on the same illustration theme to draw in Instagram influencers looking for the next hottest selfie spot. Using an entirely monochrome decor that makes a 3d seting look 2D, this eye-catching venue tricks visitors into thinking they've set foot in a different dimension, you know, like that famous music video for A-ha's Take on Me.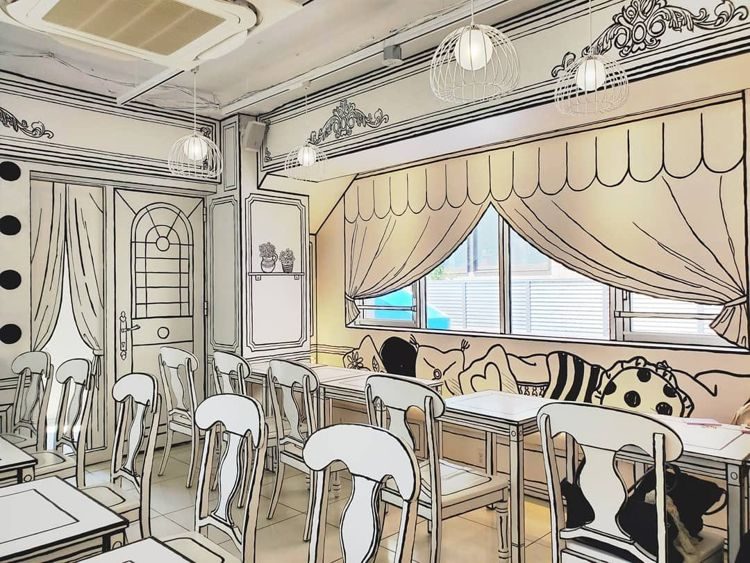 Photo: 2D Cafe/Twitter
After seeing photos of the newly opened 2D Cafe, I was sure it was just the first Japanese branch of Cafe Yeonnam-dong 239-20, aka Greem Cafe, but it seems that that's not the case. In fact, I've stumbled over an Instagram comment that claimed 2D Cafe had blatantly stolen the concept from Greem Cafe, adding that the Korean company is working on venues in various parts of the world, but not Japan.
View this post on Instagram
Regardless of whether 2D Cafe is in anyway affiliated with Greem Cafe, or if it just borrowed the concept, there's no denying the charm of this place. Japanese blogger Nunipo Puniko writes that entering the venue feels like stepping into a coloring book, and that even after seating on a seemingly-drawn chair, the place still takes some time getting used to.
View this post on Instagram
2D Cafe looks like an Instagram addict's dream come true, and patrons are indeed allowed, even encouraged, to take as many pictures as they want. But if you're just here to enjoy a tasty dessert, 2D Cafe offers a selection of treats, like strawberry or banana shaved ice, and drinks like brown sugar assam black tea with tapioca, aka bubble tea.
View this post on Instagram
View this post on Instagram
View this post on Instagram
View this post on Instagram