Imagine walking into the most pompously adorned room at Versailles to buy a piece of cheese or some yogurt. That's probably the feeling you get when you step into the Pfunds Molkerei, officially the most beautiful dairy shop in the world.
Located at Bautzner Straße 79, in Dresden, Germany, Pfunds Molkerei is one of the most popular tourist attractions in the German city, with over 500,000 tourists stopping by every year. That's fairly unusual for a dairy shop, but then again, this isn't your average dairy shop; it has more of a palace vibe, although some say it looks much better than most palace interiors. The whole place is decorated with ceramic tiles produced by Villeroy & Boch and hand-painted in the Neo-Renaissance style by local artists. In 1998, Pfunds Molkerei was awarded the title of "World's Most Beautiful Dairy Shop" by Guinness Records.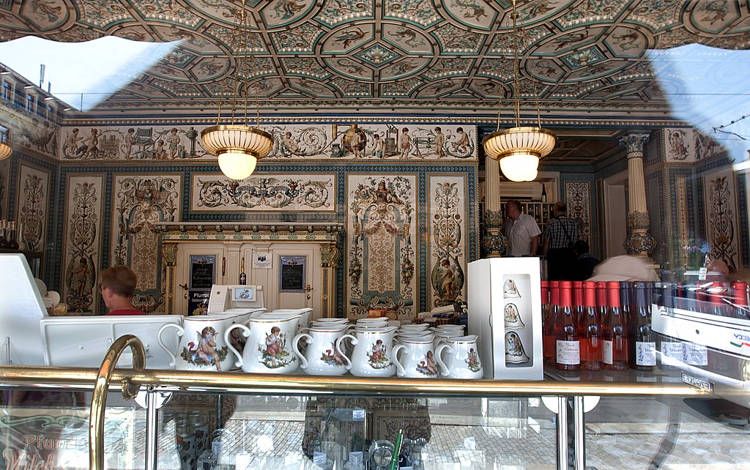 Photo: Jerzy Strzelecki/Wikimedia Commons
The history of Pfunds Molkerei can be traced back to 1879, when German farmer Paul Pfund moved from Reinholdshain to Dresden with his six cows and just as many pigs. He set up a small dairy business on Görlitzer Straße, where it was possible for passers-by to observe how the cows were milked and how the milk was prepared for sale. The following year, Paul's brother, the actor Friedrich Pfund, joined the business and together they founded the Dresdner Gebrüder Pfund dairy.
View this post on Instagram
Friedrich Pfund died in 1893, but Paul's sons, Kurt and Max, later joined the company and helped the brand grow. In the beginning, the modest dairy processed 150 liters of milk every day, but by 1930, it was already processing over 60,000 daily. Using the excess milk, Pfund became the first condensed milk producer in Germany, and also started selling milk soap and baby formula.
View this post on Instagram
The beautiful Pfunds Molkerei dairy shop in its current form was built in 1891 and decorated with intricate ceramic tiles made by one of the oldest ceramic companies in Germany, Villeroy & Boch.
View this post on Instagram
Pfunds Molkerei miraculously survived the Dresden bombings of World War 2, and continued operating until 1978. It was only in 1995 that the dairy shop once again opened its doors. Since then, the awe-inspiring shop has become a globally-recognized landmark of Dresden.
View this post on Instagram
Although the dairy itself is no longer in operation, the shop continues to sell a variety of dairy foods, as well as a popular milk soap. Business was booming before the pandemic, but seeing as Pfunds Molkerei survived two world wars, I imagine it will weather this storm as well.
View this post on Instagram
View this post on Instagram
View this post on Instagram
View this post on Instagram
View this post on Instagram