There are plenty of interesting places to visit in South Korea, but if you're all about adding new and exciting content to your Instagram feed, the you simply must add the Purple Island on your itinerary.
With the Covid-19 wreaking havoc around the world, South Korea included, international travel isn't what it used to be just a few months ago, but that just means more time to plan your next great adventure. And if you have your sights set on Instagram-worthy destinations, South Korea's new Purple Island is a must-visit. As the name suggests, this place is a purple paradise complete with vast fields of lavender, empress trees that bloom purple, purple painted houses, bridges and even purple roads.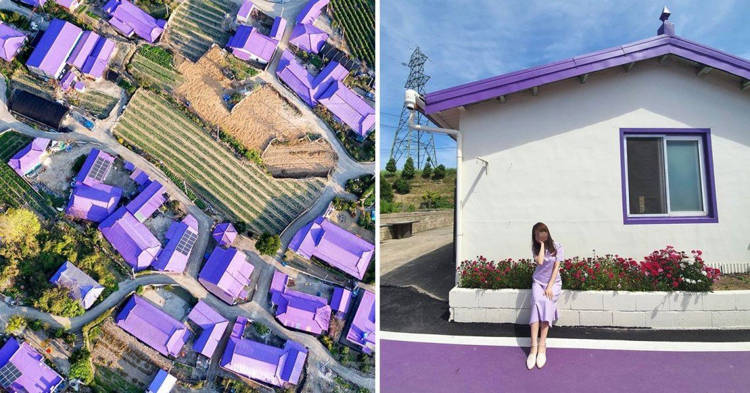 Photos: Instagram
It's not clear how the idea of turning Banwol Island and Parkji Island – two stretches of land connected by a large wooden bridge (purple, of course) – into Purple Island came to be, but last summer authorities in Sinan County, South Jeolla Province announced their plans for the unique tourist attraction. Their plans included planting 40,000 lavender plants, thousands of empress trees, as well as other purple plants, painting residential building purple, as well as roadside attractions and even roads.
View this post on Instagram
Honestly, the purple Cheonsa Bridge (literally Angel's Bridge) connecting Banwol and Parkji islands is worth a visit, especially at night, but there is so much more to see and photograph if you like the color purple that you're probably going to need more than a day to experience it all.
View this post on Instagram
As you'd expect on a true Purple Island, even the hotel rooms, restaurants and restrooms are painted purple. Oh, and so are some of the local cars. Purple-colored rooms start at 50,000 Korean Won ($41) per night.
View this post on Instagram
Purple Island is still a work in progress, but it recently went viral on Asian social media, after Instagram posts shot in this purple getaway started doing the rounds online.
View this post on Instagram
View this post on Instagram
View this post on Instagram
View this post on Instagram