The Putrajaya Roundabout in the administrative capital of Malaysia holds the Guinness record for the world's largest roundabout. It measures 3.4km in circumference and features 15 entry/exit points.
Located in the heart of Putrajaya, the administrative capital of Malaysia, the Persiaran Sultan Salahuddin Abdul Aziz Shah Roundabout, aka Putrajaya Roundabout, is one of the most unusual attractions in the Southeast Asian country. It was designed by renowned Malaysian architect Hijjas Kasturi and inaugurated in 2003. A feat of modern infrastructure engineering, the world's largest roundabout is built around Istana Melawati, the second-largest palace of Malaysia's Yang di-Pertuan Agong, the Putra Perdana Landmark, and a luxurious five-star hotel. It is also the main access point to Putrajaya's major attractions, including the prime minister's green-domed office complex and the city's enormous mosque.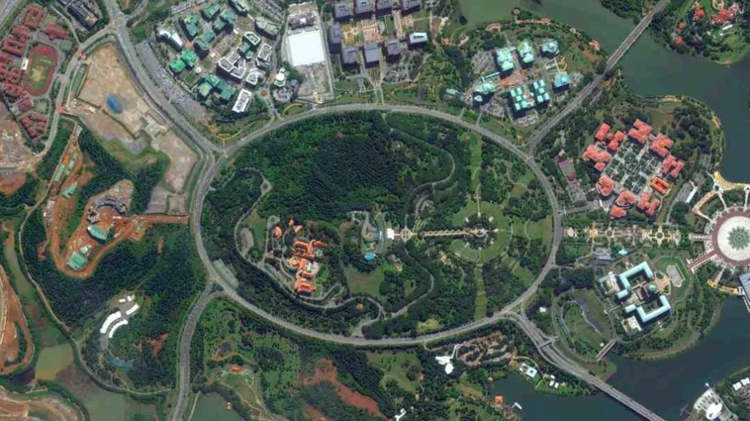 Measuring over 2 miles (3.4km) in circumference, the Putrajaya Roundabout is humongous by roundabout standards, but because of its elliptical shape and the fact that traffic only flows in one direction, it is a functional roundabout. The same cannot be said about its main rival, a slightly larger roundabout in Trinidad and Tobago's Port-of-Spain.
Measuring around 2.3 miles (3.7km) in circumference, Queen's Park Savannah is technically the largest roundabout in the world, but it is yet to be officially recognized as such because of its peculiar shape. This giant roundabout is anything but round. In fact, in order to traverse it, one has to turn no fewer than five 90-degree corners, so even though the traffic has been flowing in one direction since the late 1970s, Queen's Park Savannah has not been officially recognized as a roundabout.
For more unusual roundabouts, check out this Welsh roundabout with an inhabited house in the middle.