If you're ever in Bangkok, Thailand, and you;re a fan of unicorns, ponies or just colors in general, there's a place you simply must visit. It's called "Unicorn Cafe" and, just like you'd expect, it's full of plush unicorns, rainbows and lots of other colorful treats.
To say Unicorn Cafe is a colorful place would be an understatement. There's colorful and there's this place where even the food, including a multi-layered cake and spaghetti, come in all colors of the rainbow. There are plastic chandeliers and plush unicorns hanging from the ceilings, multi-colored couches, and tiny My Little Pony Toys decorating the tables. Did I mention you can put on a unicorn onesie to really get into a magical mood? It's the kind of place you'd think only existed in someone's acid trip, or in a pastel fantasy dream.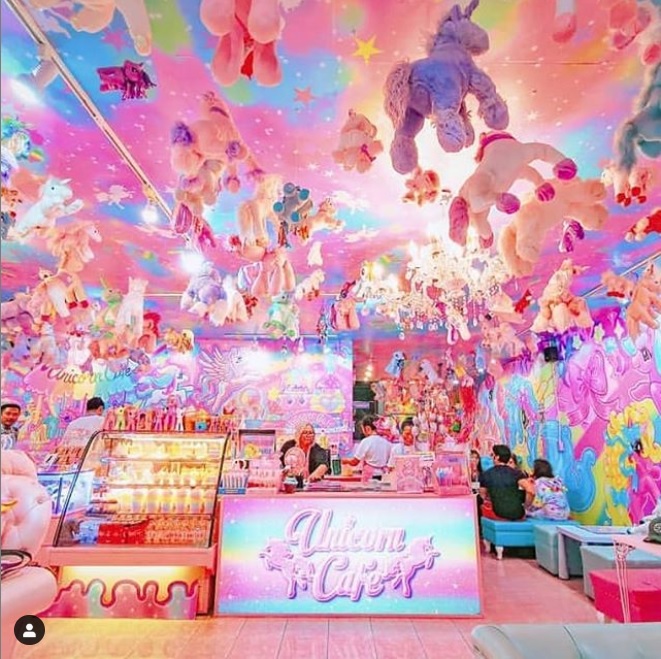 Photo: Unicorn Cafe/Instagram
The Unicorn Cafe only exists in Bangkok, and its creators apparently pride themselves on having no other branches and for offering no reservations, as they caption every one of their Instagram photos with this information. Anyway, this magical place is located in the Silom neighborhood of Bangkok's Bang Rak district. It's been around since 2012 and as of 2017 it consists of two venues located just 10 meters apart, named Zone A and Zone B.
View this post on Instagram
I've sadly never visited this place, but many of those that have recommend opting for Zone B, as it's the newer venue, while Zone A reportedly looks a bit worse for wear. Also keep in mind that this place doesn't take reservations, so if you want to avoid long lines, it's best not t show up at lunch-time. The place can get packed especially during high season, so you'll want to visit late in the afternoon.
View this post on Instagram
As you can probably imagine, Unicorn Cafe is a dream-come-true for fans of Instagram, because of of the overload of color. From the rainbow crepes, waffles and cake, to the pastel-colored Galaxy Frappe, everything is brimming with color, and even if it's not, you can bet it comes with an edible unicorn horn stuck on top of it.
View this post on Instagram
View this post on Instagram
View this post on Instagram
View this post on Instagram
View this post on Instagram
View this post on Instagram
View this post on Instagram