Carved into a vertical rockface in the Monte Cristallo massif, in Italy's Dolomites Mountains, this incredible shelter sits at 2,700 meters (8,858 feet) above sea level.
Mountain climbers brave enough to take on the Via Ferrata Ivano Dibona in the Italian Dolomites are treated to many memorable sights, including that of a unique structure embedded in the side of a vertical rockface. The iconic location, known as Buffa di Perrero, is believed to be a shelter built by Italian soldiers during World War I. It features brick walls, a slanted roof, two doorways, and four windows framed in wood. It's hard to believe, but someone had to carry all those building materials up the side of the mountain, as there is no backdoor to an easier access route.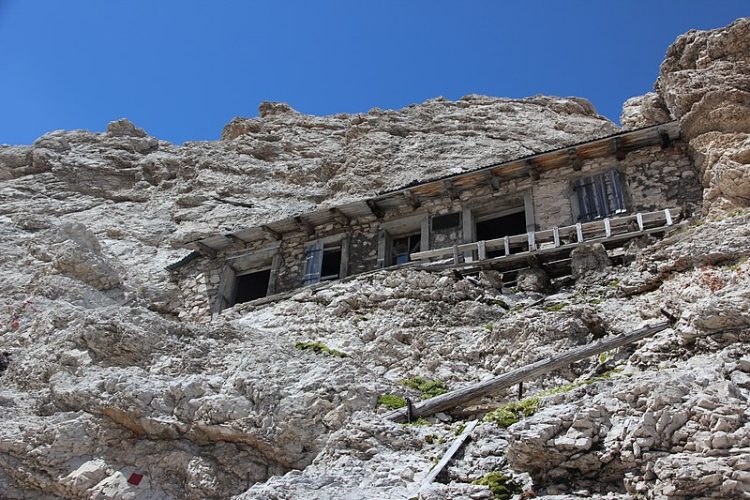 Photo: Evelyne Chassagneux-Bonini/Wikimedia Commons
Multiple refuges like the one on Monte Cristallo were built during the armed conflict between the Italians and Austro-Hungarians known as The White War. Both sides pummeled the Dolomites with artillery, triggering avalanches and hunting the enemy from afar. They used rope ladders and cableways to access hard-to-reach locations like the one of this very shelter, to stock supplies and hide from the enemy and the merciless natural elements.
Although it looks impossible to reach, a narrow mountain trail passes right by Buffa di Perrero shelter, a few meters below. It's part of the Via Ferrata Ivano Dibona, a difficult mountain trail that requires a "high level of fitness" and mountain climbing experience.
A Via Ferrata – Italian for 'iron path' – is a mountain route made up of steel ladders, rungs, and cables built into the rock to help climbers traverse difficult sections and reach remote locations.
If you're wondering what the inside of this isolated mountain shelter looks like, well, it's nothing special. It's just a narrow space lined with wood and featuring a bunch of wooden chairs. It's not where I'd choose to spend a night if I had a choice, but the people who built this place didn't really have one.