A street artist performing on the streets of Fortaleza, in Brazil, has made quite a name for himself thanks to his adorable partner, a pet dog, who assists him when he does his realistic living statue routine.
Yorge Luís Ruiz is a young Venezuelan street artist who immigrated to Brazil in search of a better life. He settled in Fortaleza, in the northeastern state of  Ceará, and started performing his living statue routine to entertain passers by in the city's busy Ferreira square. He's not the only street artist working that area of the city, but he stands out thanks to his adorable partner, a cute canine named Jaspe. The pooch not only accompanies Yorge whenever he goes to work, but she actually assists him in his routine, resting on his bent arm and standing as still as she possibly can.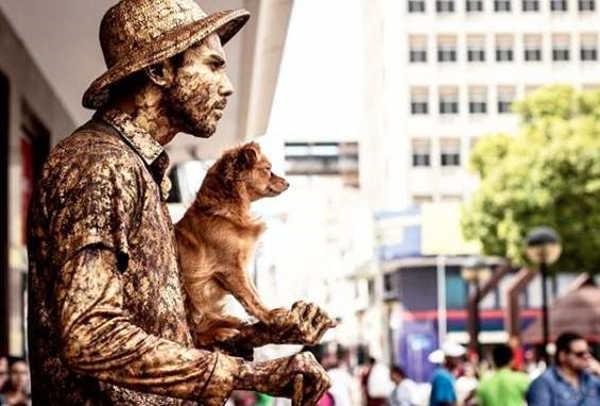 Photo: cachorrinhaartista/Instagram
Yorge and Jaspe have been drawing attention around Fortaleza for a while now, but they recently received international acclaim thanks to a Twitter video of their routine which went viral, getting over 5 million views, 260,000 likes, and 91,000 comments in the last three weeks. The pair now have nearly 90,000 followers on Instagram and have been contacted by multiple news agencies interested in doing a story on them.
View this post on Instagram
Ruiz claims that he never trained the dog, and that everything just happened naturally. He's been doing his living statue routine for six years, but Jaspe only became a part of the act when they moved to Brazil, six years ago. He didn't have anyone to live her with, so he started bringing her along. At one point he noticed that Jaspe lifted her head and froze into place whenever he kissed her on the neck, and since she was always with him anyway, he decided to use her reaction as part of the living statue routine.
View this post on Instagram
Even though most people are amazed by the duo's performance, Yorge says that they've had some trouble as well. On the first day working together, a woman who claimed to be from an animal protection agency accused him of mistreating and drugging Jaspe for financial reasons, and tried to take her away. She even got the police involved, but luckily the people on the street took their side and didn't let authorities take Jaspe. He's been grateful to the people of Fortaleza ever since.
"We thank you very much, we thank the Brazilian people every day for enjoying our work," Yorge Luis Ruiz wrote in an recent Instagram post. "We're overwhelmed by all the positive comments we are getting right now".
View this post on Instagram
For more adorable photos of Yorge and Jaspe, check out their Instagram page.
View this post on Instagram
View this post on Instagram