A Chinese video production startup has been getting a lot of attention on social media because of its adorable office pet – a two year-old llama-alpaca mix.
We've written about companies bringing pets into the office to help their human staff unwind, but that usually meant cats and small dogs. Now, a Wuxi-based company has 'hired' Tuo Baiwan, a young llama-alpaca mix to strut around the office and just be his adorable self. The furry animal loves attention and treats, and his human colleagues are more than willing to give him both. In return his simple presence help relieve stress and puts a smile on employees' faces.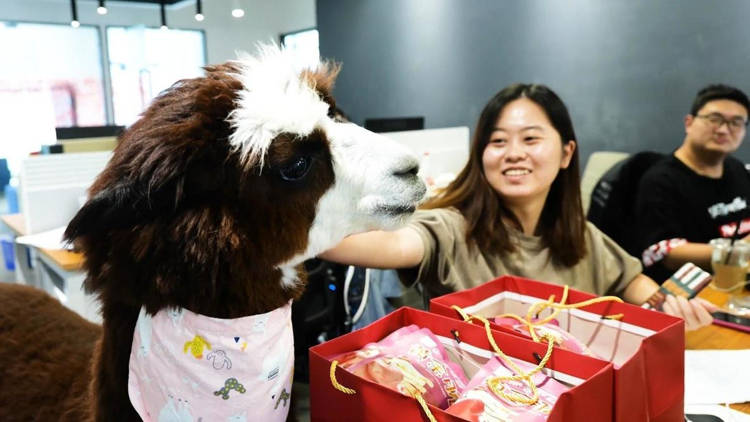 "Baiwan brings us a lot of joy and cures us every day," manager Gao Tong told Ruptly TV. "Even though he is sometimes a naughty boy, he's only around two years old, but we all love him so much."
When he's not strolling around the office interacting with the busy humans and getting petted , Baiwan loves going out for walks on the company campus and rolling around in the grass.
The Chinese company started making short videos about Baiwan's daily life around the office and how fun working alongside an alpaca can be, and the two-year old office pet became a star on Douyin, the app known worldwide as TikTok.
I don't know what Baiwan's official job title is, but Chief Relaxation Officer has a nice ring to it.