Growing up in the mountainous Sierra de Peñamayor, in Asturias, northern Spain, Aladino Montes had been shooting deer ever since he was a child, but his life as a hunter came to an abrupt end 10 years ago, when he met Bambi, an adorable fawn that has remained by his side ever since. Aladino has never shot an animal since, and says that he would rather die than take another life.
53-year-old Aladino recalls driving through the mountains in his little jeep, ten years ago, when he spotted a couple of grazing cows being followed by a skinny little fawn. Deer don't usually hang out with cows, so he approached the animals for a closer look. That's when he noticed that the fawn had several wounds and would have probably died without proper medical care. He put the injured animal in his car and drove back to his house where he nursed it back to health. But instead of running back towards the forests from which it came, the fawn stayed by Aladino's side, and he didn't have the heart to drive it away. They've been best friends ever since.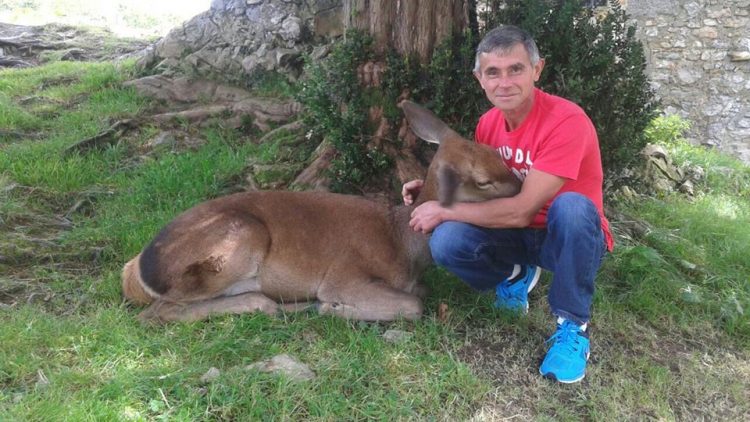 Photo: Bar Les Praeres/Facebook
The now full-grown female deer, who Montes named Bambi, because he thought she resembled Disney's famous character as a baby, not only became the main attraction of Les Praeres, a mountain cabin Aladino runs, but also completely changed his views on hunting. He always loved animals, but his father had taught him to hunt deer as a child, and he had been doing it regularly ever since. He did it for food, not sport, but ever since he adopted Bambi, he hasn't shot a single animal.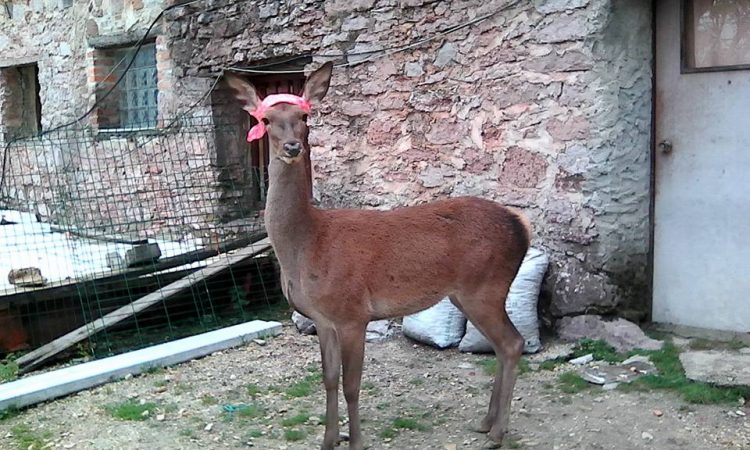 Photo: Bar Les Praeres/Facebook
"I have always loved animals, but I learned to hunt deer from my father," Aladino told Zoomin TV. "We would hunt and kill them for food, but since I've been with Bambi, I can't hunt or kill anymore, I will die before I do."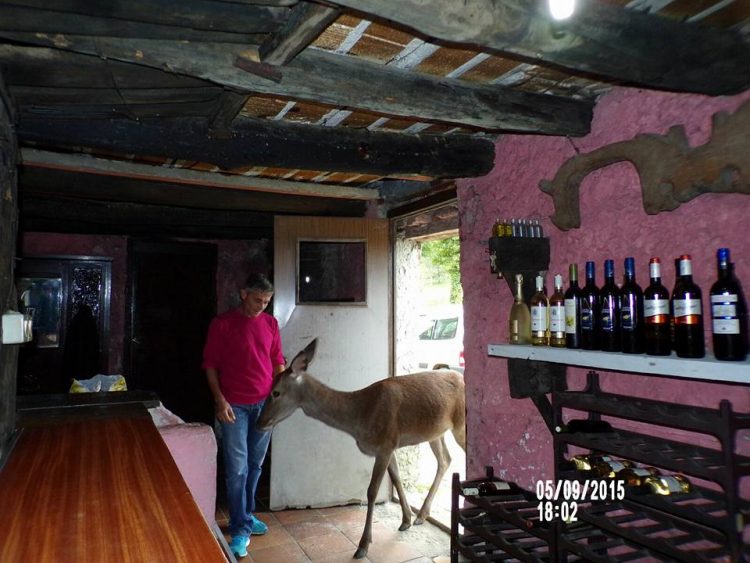 Photo: Bar Les Praeres/Facebook
Aladino's cabin sits at 1,140 meters above sea level, offering tourists a beautiful view of the surrounding mountainside. On clear days, one can see all of central Asturias all the way to Gijon, but most people don't travel to Les Praeres for the view, they come to see Bambi, the friendly deer. Word of their amazing friendship has reached all corners of Spain and many curious tourists come to see it with their own eyes.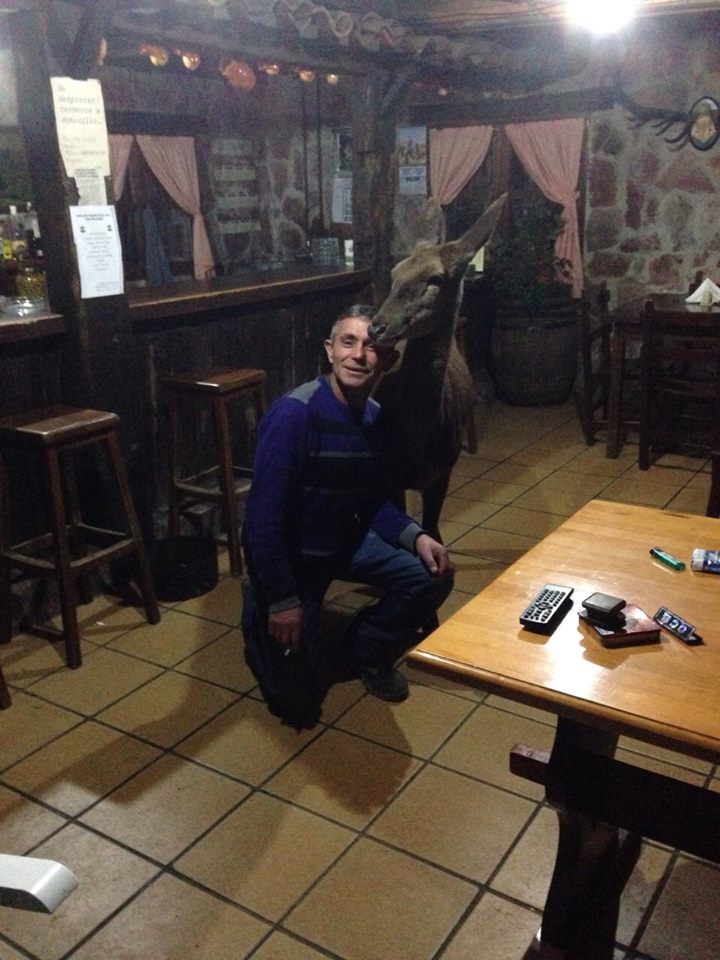 Photo: Bar Les Praeres/Facebook
Sometimes, Bambi will walk straight into the bar in search of Aladino and leave everyone with their mouth open, or even let people pet her, if she feels like it. But she's always most comfortable at the side of her rescuer. She's so relaxed around him that she makes other deer feel safe as well, and they sometimes approach the man of their own free will. "The other deer can see she's safe here with me, and in turn they also trust me," Aladino says.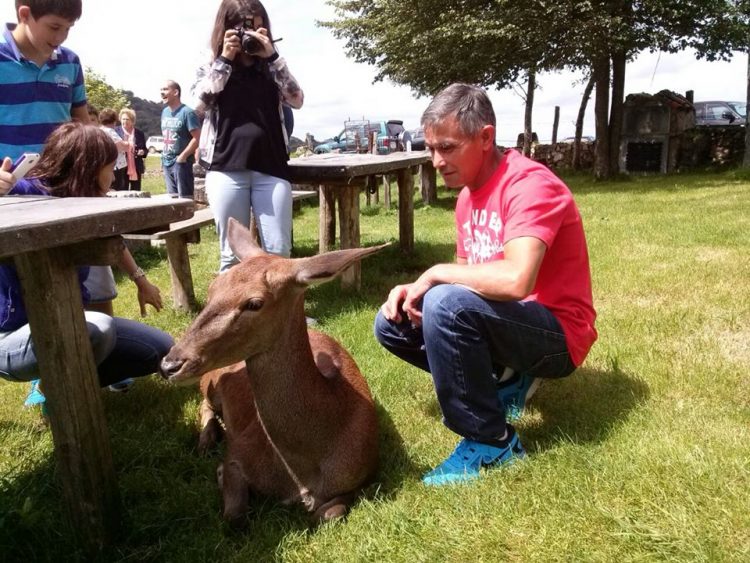 Photo: Bar Les Praeres/Facebook
"I am also very happy to have rescued a fox," the former hunter says. "We share great affection and it eats meat from my hand."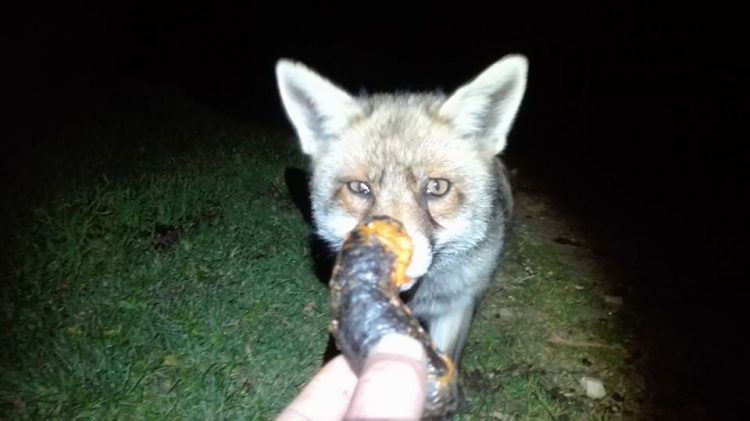 Photo: Bar Les Praeres/Facebook
"I get really emotional just talking about it," a teary-eyed Aladino adds. "They are my animals, they are really special. I don't know how I could have killed them before, because nowadays they are my life."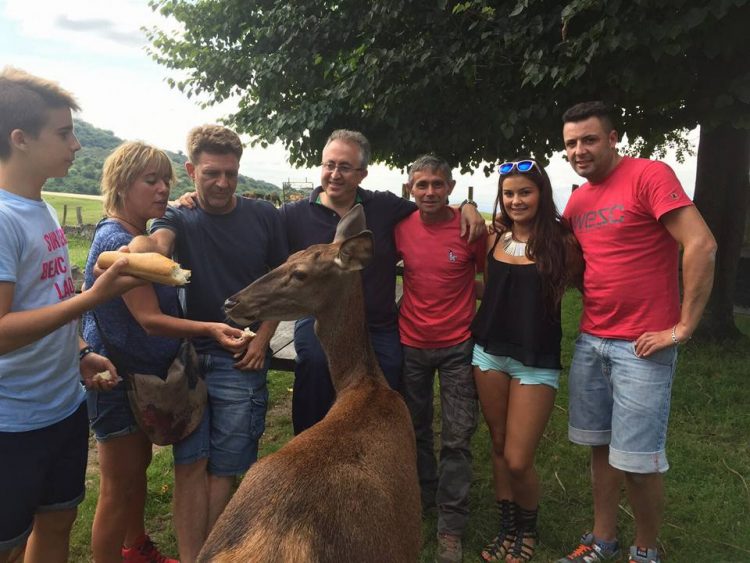 Photo: Bar Les Praeres/Facebook
Just seeing Aladino and Bambi cuddling and playing in the hillsides of Sierra de Peñamayor is enough to put a smile on your face and brighten your day. And they say people can't change…
This unlikely friendship reminds of Flippen, the snack-loving stag who has been visiting a friendly old lady in Norway, for the past three years.