Cats from the Selkirk Rex breed are known to be friendly, playful and even cuddly, but you really couldn't tell by looking at Pompous Albert. His constantly frowned face makes him look like the angriest, most unfriendly cat in the world, but it's also the source of his incredible online popularity.
Pompous Albert became an Instagram sensation shortly after his owners set up his own account, in 2014. Just a year later, he already had over 40,000 fans who couldn't get enough of his permanent "resting bitch face", and today, his fan count on the popular social network stands at an impressive 228,000. He's been featured on hundreds of major internet platforms like BuzzFeed and People Magazine, landed commercial deals with Honda, and is richer and more famous than most humans. It's actually hard to believe Pompous Albert started out as a rejected show cat…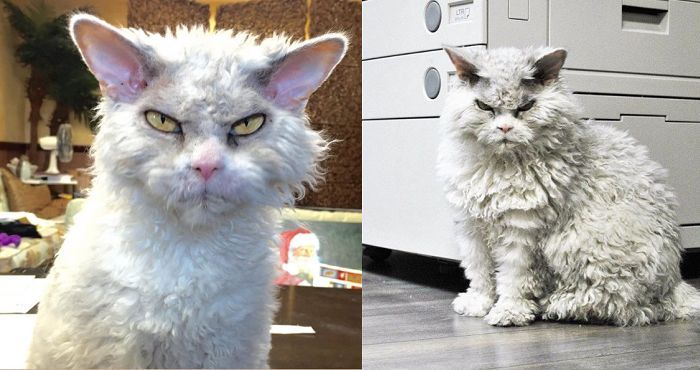 Photo: Pompous Albert/Instagram
Pompous Albert was adopted by Mike and Susan Singleton and became the resident office cat at their local business office in Salt Lake City, Utah. They thought his his curly, white-grey curly hair resembled that of famous scientist Albert Einstein, and at one point decided to share his grumpy face with the world, via Instagram. It's a good thing too, otherwise we would have all missed out on one of the grumpiest-looking creatures to ever walk the Earth.
Pompous Albert's bio reads "Rejected show cat, but I'll show them", and boy did he ever stay true to his word. The people who rejected him must be scratching their eyes out seeing how far he's come.
While the permanent angry look on Pompous Albert's face is the main draw for most of his fans, it's not the only thing that keeps people coming back for more. His owners also caption each photo and video they upload with sarcastic comments that fit his look perfectly.
For example, one photo where he stares angrily into the camera is captioned with "Albert's Office Tip: This is the look you give a boss who wants you to work over the weekend," while another reads "Let's assume I'm right, It'll save time".
For more of Pompous Albert's irresistible angry face, check out his popular Instgram page. Oh, and also read this article by Sage Singleton, one of Albert's human sister, about growing up in the shadow of a famous cat.