The caterpillar of the bagworm moth is known as somewhat of a gifted architect, building impressive and durable cocoons out of twigs, leaves, seeds and other organic materials.
As larvae, bagworm moths look for a place to settle down and feed, such as a leaf or the branch of a tree. Once they've found a suitable location, they go out looking for building material to reinforce their cocoons with. Materials like twigs, dead leaves, seeds and even dirt are most often used, and depending on the species of bagworm moths, the cocoon can end up looking like a pile of leaves or a carefully planned miniature log cabin.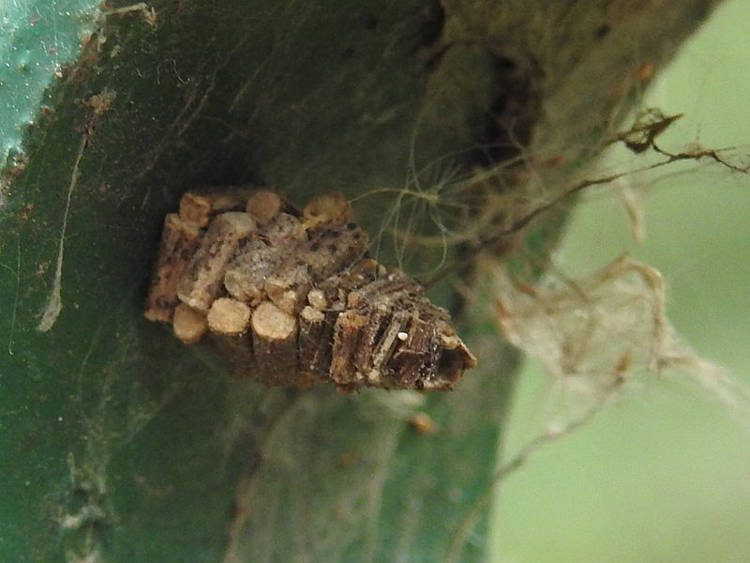 Not only are the cases of the bagworm moth, as these cocoons are called, incredibly tough because of the strong silk that binds the materials together, but they also offer make camouflage against predators as they are made with common materials from their habitat.
View this post on Instagram
While the architecture of many bagworm moth species can appear random, scientists found that at least some species appear to plan their cases very carefully. A study that analyzed 42 cases of Clania crameri  bagworm moths revealed that the larvae of bagworms do not glue together sticks of different size randomly but with a definite pattern.
View this post on Instagram
Most photos and videos of impressive bagworm moth cases show them attached to trees, rocks, or even buildings, but in reality these structures are mobile. The caterpillars will pop their heads from under their log cabins and use their powerful legs to slowly move forward, dragging their impressive houses along with them. As they feed and grow, so does their home, as they continue to add more materials to it.
View this post on Instagram
Bagworm moths spend most of their lives as caterpillars, so the cases are a really important part of their lives. Males leave the case after they've pupated into moths, but the females, which are wingless, only make a very brief appearance to mate. They then retreat back into their log cabins to lay eggs and eventually die. The larvae that hatch proceed to build their own cases.
View this post on Instagram
Most entomologists find bagworm moth fascinating, for the reasons detailed above, but for botanists and other plant lovers, they are nothing but pests. If left unchecked, these moths will attach to various plants or trees and strip them bare as they continue to feed and expand their portable homes.
View this post on Instagram
View this post on Instagram
View this post on Instagram