CopenHill isn't just the world's largest waste-to-energy powerplant, it's also a masterpiece of architectural design, incorporating a giant ski slope and hiking trail on its winding roof, and a massive climbing wall on one of its sides.
Waste processing powerplants don't usually make great tourist attractions, but Copenhagen's newest achievement in its quest to become the world's first carbon-free city is something that has to be experienced. Not only is CopenHill capable of converting 440,000 tons of waste into clean energy every year, but it's also an exciting entertainment for people looking to engage in outdoorsy activities near the center of Denmark's capital city. During the summer, its winding roof doubles as a green hiking trail, while in the winter season it becomes an artificial sky slope. Did I mention that it has the "tallest artificial climbing wall in the world" on its facade?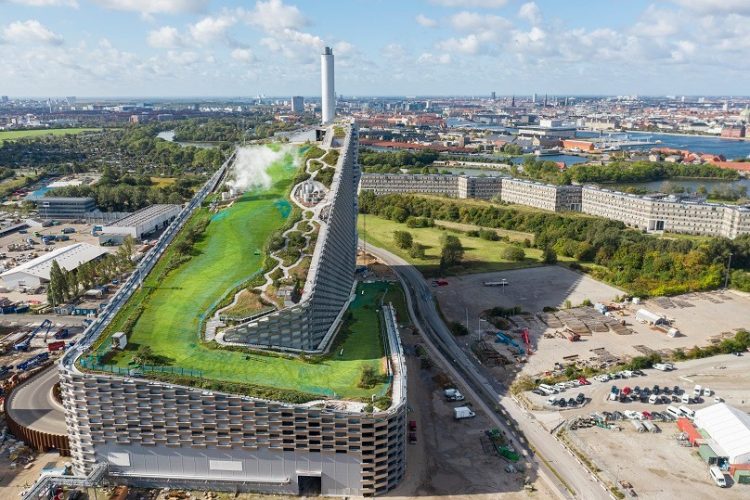 Photo: Bjarke Ingels Group
CopenHill started out as a bold architectural project from a studio by the name of PLOT, back in 2002. They proposed inserting a public urban space in the densest area of Copenhagen by placing an ski-slope above the largest department store in the city. Despite winning a design competition, the project never actually materialized, but it inspired the concept behind CopenHill.
View this post on Instagram
A decade after the idea of a functional roof was first proposed, Bjarke Ingels Group (BIG) won the international design competition for Copenhagen's waste-to-energy plant. Ingels was the architect behind PLOT, and he decided to finally make his old project a reality in an even more impressive fashion. It's one thing to build an artificial sky slope on top of a shopping mall, and another one entirely to do it on a waste processing powerplant.
View this post on Instagram
Inaugurated a year ago, the CopenHill powerplant has become one of the most popular landmarks in the Danish capital. Not only is it the city's highest building, and the world's cleanest waste-to-energy facility, but it also attracts a lot of locals and tourists interested in the entertainment facilities.
View this post on Instagram
During the warm summer months, the CopenHill rooftop acts as a full-blown activity park that provides visitors with hiking trails, playgrounds, fitness equipment, trail running, climbing walls, and spectacular views of the city. In winter, it offers 1,640 feet (500 meters) of ski slopes, complete with a ski lift system. The slopes run from the top of the 90-metre-high building to its base, with a 180-degree turn halfway down the piste.
View this post on Instagram
"As a power plant, CopenHill is so clean that we have been able to turn its building mass into the bedrock of the social life of the city – its facade is climbable, its roof is hikeable and its slopes are skiable," Bjarke Ingels, founder of BIG, said. "A crystal clear example of hedonistic sustainability – that a sustainable city is not only better for the environment – it is also more enjoyable for the lives of its citizens."
View this post on Instagram