As one of the most popular manga and anime characters of all time, Doraemon, the cuddly robotic cat, has millions of fans all around the world, but this family in Indonesia may just be his biggest fans. Just take a look at their house and you'll see what I mean.
Doraemon is considered to be a children's cartoon character, Reghina Karwur and her husband seem to have never outgrown their passion for the time-traveling robotic cat. Even though they now have two daughters of their own, the couple still dedicate much of their time to their obsession with Doraemon, and their house is the best example of that. It's basically a shrine to the Japanese cultural icon, both on the inside and the outside.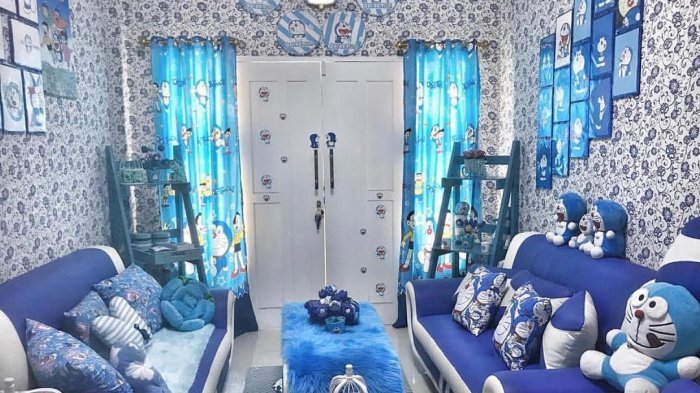 Photo: Reghina Karwur/Instagram
Even though it's unclear where exactly in Indonesia the unique Karwur residence is located, fans of Doraemon don't need to travel to the Asian country to see it, as Reghina is always posting photos of it on her Instagram account. As you can imagine, her page is very popular with like-minded Doraemon fans – she currently has over 40,000 followers – who can't stop gushing over her impressive Doraemon-themed home and impressive collection of memorabilia.
From the outside, the Karwurs' blue and white-painted house and a large portrait of Doraemon by the door hint that the owners are fans of the Japanese manga character, but it's once you set foot inside that you realize just how far their obsession with Doraemon goes.
The lovable blue cat is everywhere in Reghina's home, from small stickers on the front doors, to the couch pillows and the window curtains. The bookcase is also full of Doraemon memorabilia, like clocks, figurines and pictures of the manga character. The kitchen is probably the most impressive place in all the house, featuring Doraemon-themed floor tiles, Doraemon tableware, Doraemon door curtains, stickers on the furniture and even a Doraemon cooker cover.
The children's bedrooms are also Doraemon-themed, as is every other part of Reghina Karwur's house, featuring Doremon plushies, wallpaper, and more memorabilia and stickers. You're bound to see at least one Doraemon themed item everywhere you look in this place.
The Karwur's obsession with Doraemon extends beyond their house. While the outside of their family car is Doraemon-free, the same cannot be said about the inside, where you'll find a Doraemon-themed steering wheel cover, floor mats, as well as various stickers and hanging plushies.
Photos of Reghina Karwur's house first went viral last year, in Vietnam, where Doraemon is also incredibly popular – as he is in most Asian countries – but I just discovered them on Indonesian website Tribunn. I suspect we'll be seeing a lot more of them on western online media very soon. Hopefully, someone can also interview the family to find out how their obsession with Doraemon began. Until then, enjoy the photos.