In a bid to convince drivers in Aichi Prefecture to keep their hands on the wheel and their eyes on the road, a new Japanese smartphone app offers free coffee coupons to drivers who don't check their phones for at least 100 km.
For the last 13 years, Aichi Prefecture has recorded the highest rate of traffic fatalities in Japan. Last year, there were 443,691 accidents that resulted in injuries or deaths, and 50,101 arrests involving the use of smartphones while driving. With handhelds becoming such a big part of people's lives, there appears to be an increase in violations of this nature, and authorities have yet to come up with an effective plan to combat the problem.
Interestingly, a trio of Japanese company seem to think that an ingenious new app could incentivize drivers to restrain themselves from checking their phones at the wheel and reduce the number of traffic accidents. Toyota Motor Corporation, Komeda Co Ltd and KDDI Corporation have teamed up to create Driving Barista, an app that uses the phone's gyro sensor to sense the tilt of the device, and the GPS to determine the distance driven. This allows it to calculate the number of kilometers a driver has traveled with the smartphone facing down.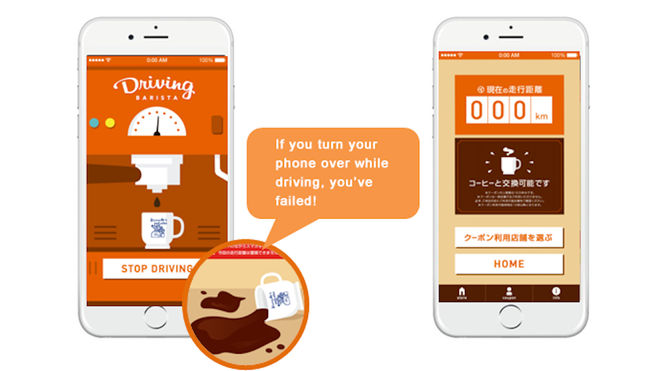 When Driving Barista determines that the smartphone has not been tampered with for at least 100 kilometers, it will reward the driver with a coupon for a cup of blended or iced coffee at a Komeda Coffee Shop. The reward is earned after every 100 kilometers driven without checking the phone. If you tinker with it before reaching the mandatory 100km, the app will reset back at 0km.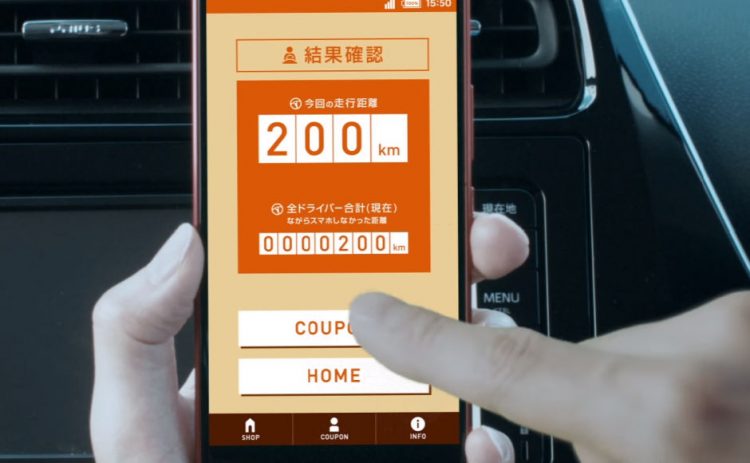 Toyota claims that this is the first smartphone app that attempts to tackle traffic safety issues. "In line with contributing to the ultimate goal of achieving zero traffic fatalities and zero traffic accidents, Toyota has implemented automobile safety measures as one of its top priority management concerns," said Shuichi Murakami, managing officer at Toyota. "By carrying out a new traffic safety education initiative together with Komeda and KDDI, we hope to further reduce traffic accidents."
Driver Barista launched on September 20th and is available for both iOS and Android devices. For now, it only works in Aichi Pefecture.
Photos: Driving Barista