A young Canadian man who tattooed most of his body, including his face, hands and legs bright blue, claims that the "whimsical element" has really helped him enjoy his life way more than before.
Donnie Snider, a former forklift driver from Scarborough, in Canada's Ontario region, started permanently coloring his body blue three years ago, and is now almost completely Smurf-like in color. It all started when he asked his sister to tattoo a part of his leg and foot with the bright blue hue; he liked it so much that he kept on turning part of his body blue, partly because of the psychological impact he experienced. If before he felt  trapped by conformity and had a "lack of confidence", the permanent makeover really gave him a big boost.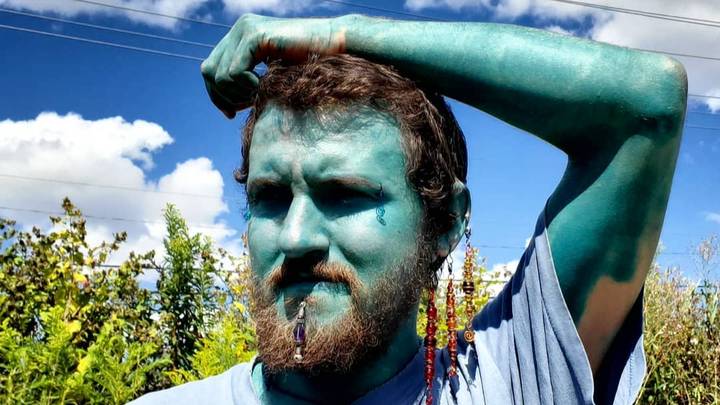 Photo: Donnie Snider/Instagram
"I was extremely miserable, I decided to quit hiding, break myself out of stagnation and remake my life" Snider recently said. "It's like living life in strange-mode. It's definitely striking, and I think it's a beautiful color."
The 26-year-old admits that getting a job as a blue man is pretty tough, but makes it very clear that he is a hardworking Canadian who would "sooner eat out of a dumpster" than claim taxpayer assistance for unemployment. He is currently making and selling jewelry and documenting his adventures on Instagram. He lives in a "clapped-out transit bus", but is very optimistic about the future.
"I feel a renewed optimism about the feasibility of pursuing wild dreams," he said."I might become a trillionaire, or move to Mars. Or just carry on selling earrings and get my bus fixed up."
Donnie says that his bizarre skin color gets all kinds of reactions from passers-by, from thumbs up and fist pumps, to people tugging at his clothes to see underneath and trying to rub off the paint with their thumbs.
"Questions from strangers about my genitals have increased by, like, 10,000 percent," the blue man joked.
Snider admits that negative reactions are a part of his daily life as well, but says that he has learned to ignore them, as "most insults are unimaginative and predictable".
To keep an eye on the exploits of this real-life smurf, follow him on Instagram, @Trism_Driver.