Joe Quililan, a young snake catcher from the Philippines, has been dubbed "Venom Man" for his unusual habit of allowing poisonous snakes to bite him every week and even injecting small quantities of venom into his body in order to boost his resistance to it.
31-year-old Quililan, from Cagayan de Oro City, caught his first Northern Philippine Cobra when he was only 14-years-old. Back then, he didn't have much experience handling snakes, so one day the cobra bit him, only instead of going to the hospital, the teen just brushed it off and got on with his day as if nothing had happened. Most people would have experience severe breathing problems soon after being bitten, followed by a loss of consciousness and then death, but not Joe. He claims that that first snake bite made him realize that he had an unusual resistance to cobra venom, and spent the following years trying to become completely immune to it.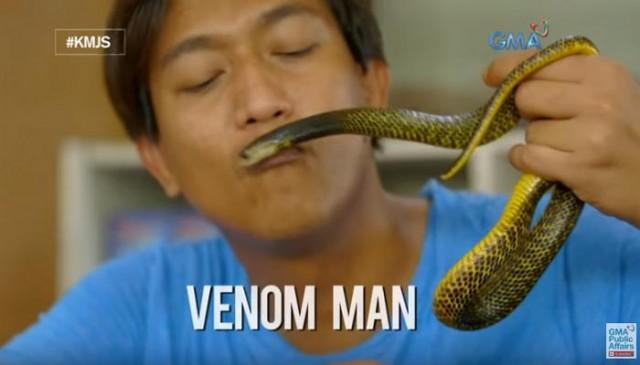 Photo: Kapuso Mo, Jessica Soho
Quililan claims to have achieved his goal of becoming immune to venom, although he admits that the process wasn't the easiest one imaginable. Throughout the years, he has suffered hundreds of snake bites, some of which landed him in the hospital. He claims he came close to dying on five different occasions and even had one of his fingers amputated following a viper bite, but he never gave up.
"I cannot avoid encountering the more aggressive wild snakes and I've been in and out of the hospital five times, but the bites make me more immune to the venom," Joe said in a recent interview.
To boost his resistance, the young snake catcher allows poisonous snakes to bite him once a week, and according to GMA Networks, he even has small quantities of venom injected into his body once every three weeks. Not only does this habit keep him immune to poisonous snake bites, but he claims that the venom also makes him stronger.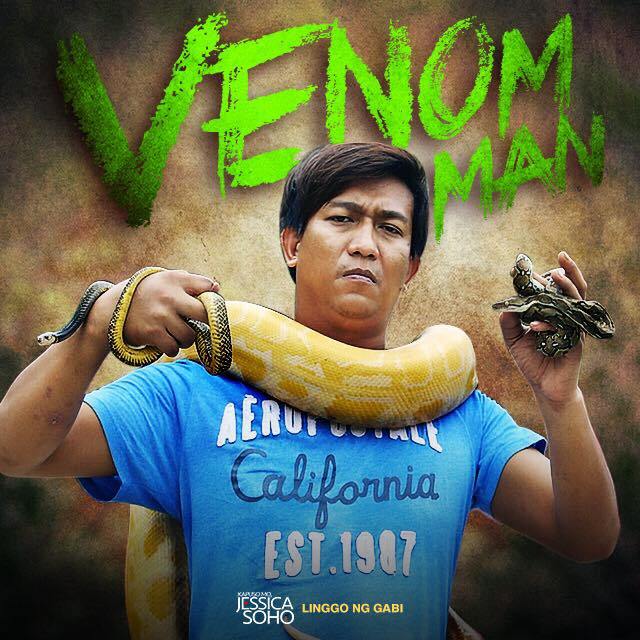 Photo: Kapuso Mo, Jessica Soho
Joe Quililan was recently featured on GMA's Kapuso Mo, Jessica Soho (KMJS) show, where he demonstrated his immunity to snake venom by allowing himself to be bitten twice by a Northern Philippine Cobra. He was taken to the hospital to make sure that an intriguing TV topic doesn't turn into a tragedy, but he was released just an hour later, after doctors confirmed that he was in perfect physical condition.
Following his appearance on KMJS, Joe's blood was sent to the Research Institute for Tropical Medicine for analysis, and the results confirmed that his antibodies can neutralize cobra venom.
"We found out that Joe indeed has antibodies against the cobra venom," Eleonor Cervantes, a senior science research specialist said. "But to what extent his blood can neutralize the venom, we are not yet sure. This is the first time that we found a person who can do that and had his blood tested."
Joe, who previously worked in a pet-shop in Cagayan de Oro, has recently landed a job with the Philippines' Department of Environment and Natural Resources to help with snake conservation, and looks forward to using his unusual resistance to venom to educate people about snakes and their important role in nature.
"I love snakes. I want the public to be educated in what I do with my hobby. Snakes have purposes in the ecosystem and in our lives as well," Venom Man said. "I don't worry because right now I'm immune to this."
Joe Quililan isn't the first person to use this painful and dangerous method to boost his immunity to snake venom. Tim Friede, a snake enthusiast from the USA, claims that injecting himself with diluted snake venom has also made him immune to the poison.