Known as La maison dans la Loire (the House in the Loire), the three-storey building looks like the victim of a flood that once swept it away, but appearances can be deceiving…
Walking along the river Loire, near the town of Lavau-sur-Loire, just a stone throw away from Nantes, you're bound to spot a rather unusual sight – a tilted building located right in the middle of the river. You'd think it was brutally swept away by some catastrophic flood, but it was actually placed there deliberately by a company that specializes in salvaging wrecks, at the request of a French artist. Today, the House in the Loire is one of the highlights of river cruises on the Loire.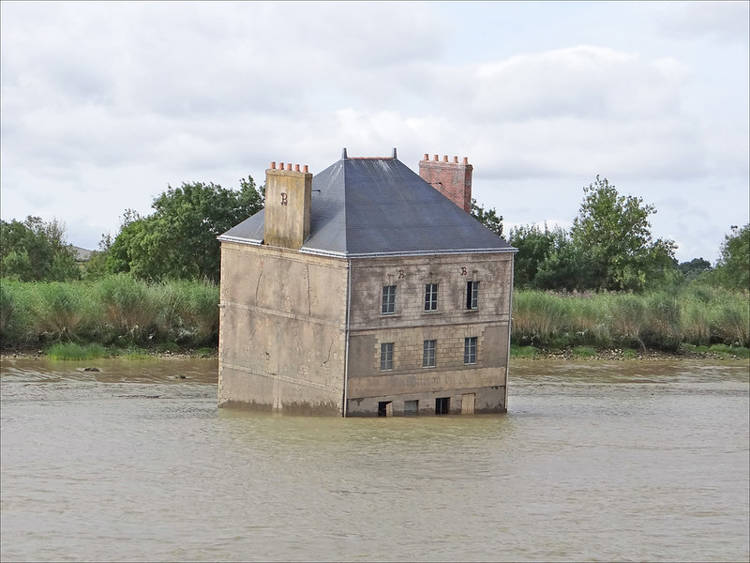 Photo: Jean-Pierre Dalbera/Flickr
The House in the Loire is the brainchild of  French artist Jean-Luc Courcoult, who created it as part of the 2007 Estuaire Art Exhibition, which invited a number of international artists to create large-scale works inspired by the Loire and its nearby estuary.
View this post on Instagram
Interestingly, the abandoned house is a 1:1 replica of a former inn located in Lavau-Sur-Loire, which currently serves as a creperie (pancake house). Courcoult produced an almost identical replica out of cast concrete, and had it placed on the right bank of the Loire, but strong currents and high tides caused it to capsize, so the edifice was moved to a new location, near the left bank.
View this post on Instagram
To prevent floods or the tide from sweeping the house away ever again, it was bolted down to the rocky bottom of the Loire River.
View this post on Instagram
Although the House in the Loire simply looks strange during the day, because of its unusual location, at night, it becomes downright creepy, especially on nights when the wind blowing through the windows makes itself heard. But the thing that really freaks people out is the light that turns on in one of the rooms, which isn't really something you'd expect to see in an abandoned house in the middle of a river.
View this post on Instagram
I wonder if people ever try to swim to this mysterious house… I'm sure it's forbidden, for safety reasons, but when has that stopped curious daredevils…