Russian Instagram users in search of the perfect selfie have been flocking to a lake near the Siberian city of Novosibirsk that boasts turquoise water and white sandy beaches similar to those in the Maldives. But unlike the popular Indian Ocean archipelago, there is nothing natural about its beauty.
Dubbed the "Siberian Maldives" or "Novosibirsk Maldives", the gorgeous lake is actually a man-made toxic dump used to dump ash from a nearby coal plant. The water apparently gets its bright turquoise color from its depth and the calcium salts and other metal oxides dissolved in it. Alluring as it may seem at first glance, the Siberian Generating Company (SGC) warns that its ash-dumping pond has a high pH of more than 8 and cause an allergic allergic reaction in contact with human skin. That hasn't stopped people from posing for photos on the lake's beaches and even venturing on the water on paddle boards and inflatable unicorns.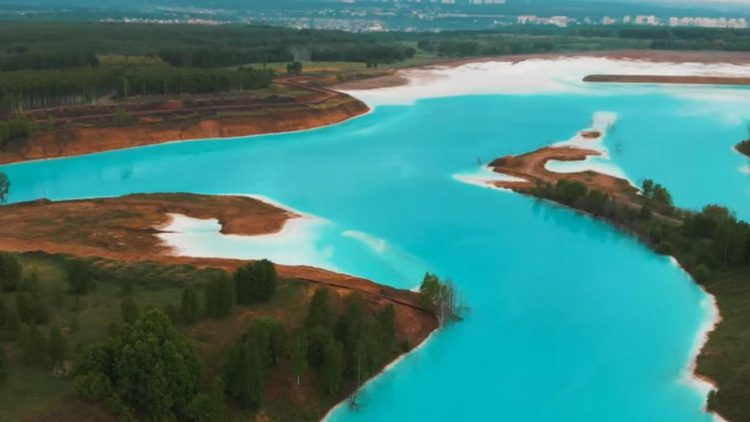 Photo: YouTube screengrab
"In the last week, our ash dump of the Novosibirsk TEZ-5 has become the star of social networks," SGC said in a statement published on Russian social network VKontakte. "But you CANNOT swim in the ash dump. Its water has high alkaline environment. This is due to the fact that calcium salts and other metal oxides are dissolved in it. Skin contact with such water may cause an allergic reaction!"
View this post on Instagram
The Russian company added that the bottom of the lake is so muddy that it makes getting out "almost impossible". It claims that the biggest risk is accidentally falling into the ash dump while attempting to get the perfect selfie.
View this post on Instagram
"Walking along the ash dump is like walking on a military firing range: dangerous and undesirable," the official statement warned.
View this post on Instagram
Even before the coal plant issued its official statement on the danger posed by the alluring Novosibirsk Maldives, you could tell there was something off about it. There are large metal pipes from the power plant going into the lake, and its geolocation name is "Abnormal ash dump area". But the truth is people simply don't care about the danger, or they simply value their Instagram photos more than their health.
View this post on Instagram
"We know that the lake is toxic and didn't enter the water," one woman told CNN. "This didn't stop some Russians to organize whole picnics by the lake. One man even bathed there, which is strictly forbidden."