Robert Bobroczky, a 7-foot-7, 16-year-old freshman at SPIRE Institute, a state-of-the-art international academy in Geneva, Ohio, is set to become the tallest player to ever play in the NBA and of the tallest in the history of the sport.
Bobroczky, a native of Romania, has been described as "so tall he doesn't look real". At age 12, he was already 7 feet tall, and although his growth rate has slowed down over the last four years, he is still on track to become the eighteenth person in medical history to reach or surpass eight feet in height. Unfortunately, his weight has been having trouble keeping up with his growth, and at 7-foot-7, he weighs only 190 pounds. Robert is honing is skills on the basketball court, but if he is to reach the NBA, the first priority is bulking up.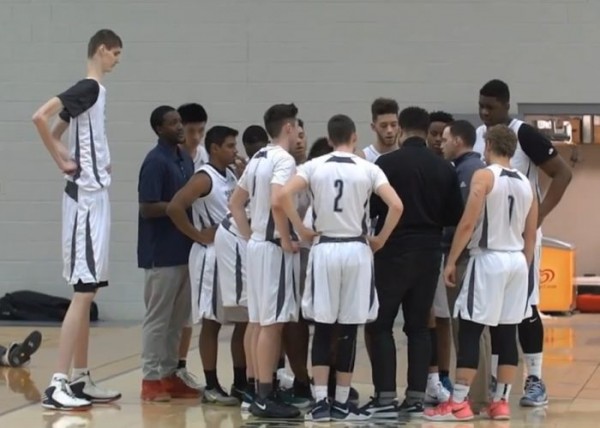 Photo: video caption
The world first heard about Robert Bobroczky a couple of years ago, when a video of him towering over other teenagers on the basketball court went viral on Facebook, with over 3 million views. He was 7-foot-3 at the time, basically a giant for his age. That's when Bobby Bossman, Executive Director of SPIRE Institute became interested in the young man. "Oddly enough, it all started on Facebook," he told Maxpreps. "We reached out to him a year ago and got to know him and his family. They trusted us and came over to America to visit and here we are. He's been at our school for three months now and lives on campus."
Robert's father, Zsiga, was also a professional basketball player who played on Romania's national team, alongside 7-foot-7 Gheorghe Muresan, one of the two tallest players to have ever played in the NBA. His father is "just" 7-foot-1 tall, though. He and his wife agreed to move to America to help Robert reach his full potential as a basketball player.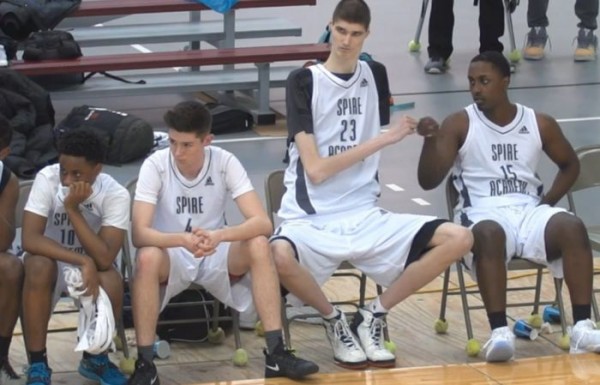 Photo: video caption
Still a freshman, Robert Bobroczky recently made his high school basketball debut on Jan. 12, in an 87-51 loss to First Love Christian Academy of Washington, Pa., but only played for a few minutes. His coaches just want him to get accustomed to the type of basketball played in the U.S. for now, but hope to use him on the court full time starting next year. "I told him: 'We want you to be comfortable, we want you to have fun and everything else will take care of itself'," Bossman said.
"Robert has a great mid-range shot for his size and can also step out and hit 3-pointers," the SPIRE Executive Director added. "He has great hands, passing ability and a soft touch around the rim. He has the body, intelligence and skill set to be a pro one day. He's not even close to reaching his potential. But the thing that separates Robert from others is his strong work ethic. The kid just wants it."
One of his biggest challenges, however, is moving up and down the court at a good pace, which isn't exactly easy for a boy with such a long frame. "We do weight training to harden his core and he's also in the pool three times a week with our trainers strengthening muscle groups," Bobby Bossman told Maxpreps. "He eats three meals a day along with protein and meal replacement shakes. The main thing is ensuring we give him enough calories in his diet, and we're in the adaptive stage to see how his body responds."
At just 16 years old, Robert Bobroczky would be the tallest basketball player in the NBA right now, and is in fact the second tallest basketball player in the world, behind 29-year-old Paul Sturgess, a 7-foot-8 professional player from England.