The story of Sindhutai Sapkal is one of incredible determination in the face of adversity, rebirth and love of children who nobody else wanted. The 68-year-old has raised over 1,400 orphans, offering them not just food and shelter, but also the love of a real family. Her amazing work has earned her over 750 awards, and the nickname "Mother of Orphans".
Sapkal runs four orphanages in her home town of Prune, India's Maharashtra state – two for girls and two for boys – with the help of her biological daughter, Mamta, and her eldest adopted children, some of whom have become lawyers, doctors and professors. The children under her care were found trying to fend for themselves in railway station, abandoned in dustbins, or even dragged by stray dogs in the streets. New ones are brought to her orphanages all the time, and as long as they are eligible for adoption, she never turns them away. But unlike state-run orphanages, the Mother of Orphans doesn't give her children up for adoption with other families, and doesn't turn them away when they turn 18.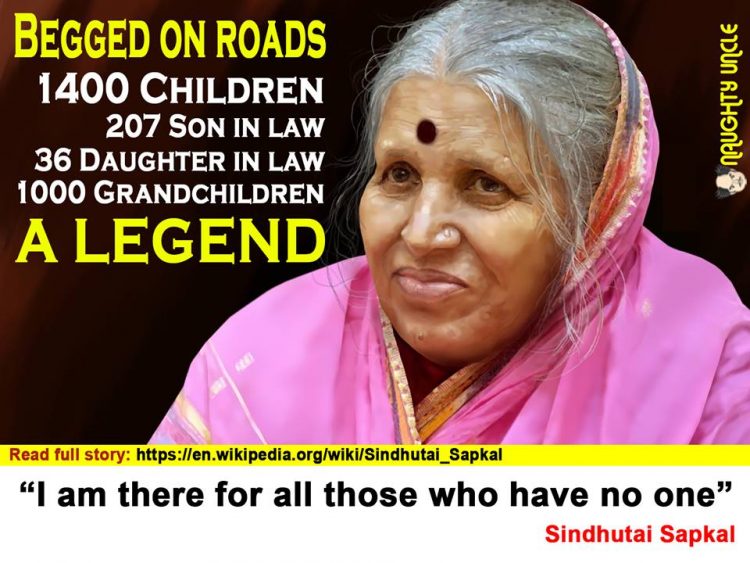 "Even after turning 18, the children are with me. I even get them married and help them establish their families," Sindhutai told Barcroft TV. "The Government says that once the child is 18, he or she should be asked to leave. But just because that are 18 doesn't mean that they are wise. In fact, that is the time when they need more love and support, to be told about the dangers of life. That's what I do. I give them wisdom to live. Just because a bird has feathers, doesn't mean it can fly."
Sindhutai Sapkal's activism was inspired by her own hardships growing up. Born into a poor family, she had to abandon her education at age 9, and was married to a 20-year-old man when she was just 10-years-old. Ten years later, when she was nine months pregnant, she was thrown out of the house by her husband, and because everyone, even her family, turned her away, she had to give birth in a cowshed.
"I delivered in a cowshed. I cut Mamata's umbilical cord using rocks that I found lying there. I went to my relatives, to my mother, but no one supported me. Everyone threw me out," the 68-year-old recalls.
To support herself and her newborn daughter, Sapkal had to beg and sing in train stations for food. It was during these difficult times that she met many other abandoned youths that were struggling just like she was. She would share her food with them and provide as much care as she could. Some of them started following her around, and that, she says, is how her large family started to form without her even realizing.
But life was tough, and at one point, the young woman decided that it was too much for her. She had hit rock bottom and was ready to take her own life. She ate until her stomach was full, because she didn't want to die hungry, wrapped her baby close to her body and was ready to end it all. But then she heard a beggar asking for a bit of water. He seemed in a lot of pain, and Sindthuai told her self that if she was going to die, she might as well do one last good deed and give the man some water.
"So I stopped, went to him and realized that he was burning with fever. I fed him the food I had and gave him water. He looked at me and joined his hands thankfully, she remembers. "That's when I realized that I should learn to live for others. I told myself."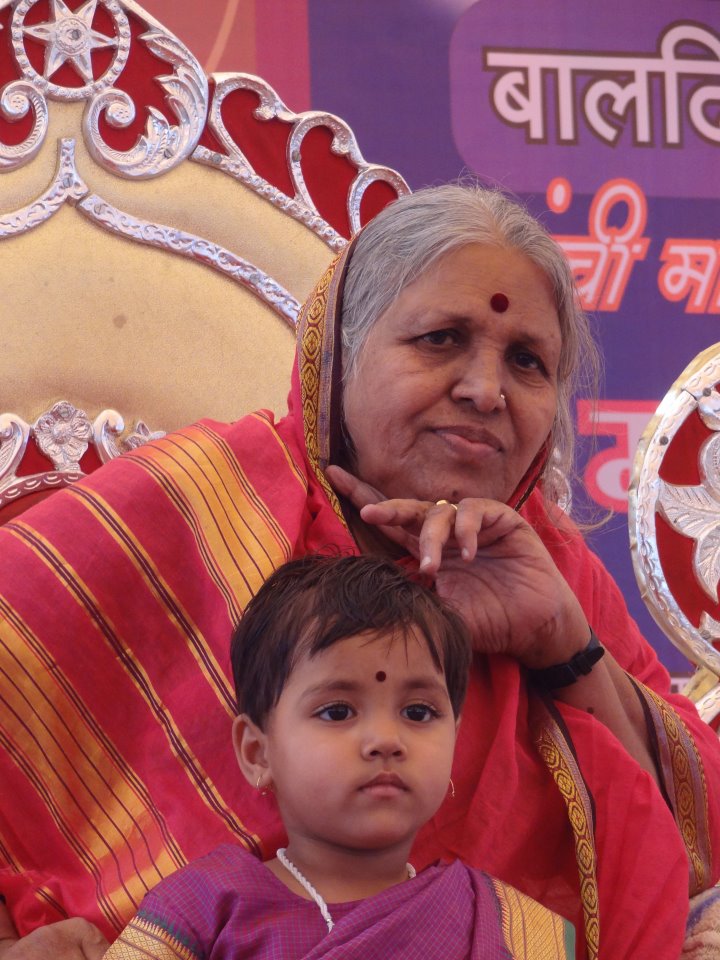 Photo: Vinay Sapkal/Facebook
And that's exactly what she did. She started taking care of homeless and unwanted children using the food she collected by begging and singing, but also gave speeches, asking people for donations to help her fast-growing family or orphans.
Over the last 40 years, Sindhutai Sapkal has traveled to countless villages, giving speeches until her throat was dry, trying to collect donations to provide a better life for her adopted children. She managed to build four orphanages, where many abandoned children have grown into respectable members of society. She makes it a priority to keep the kids on the right path in life and offer them the love and care of a real family.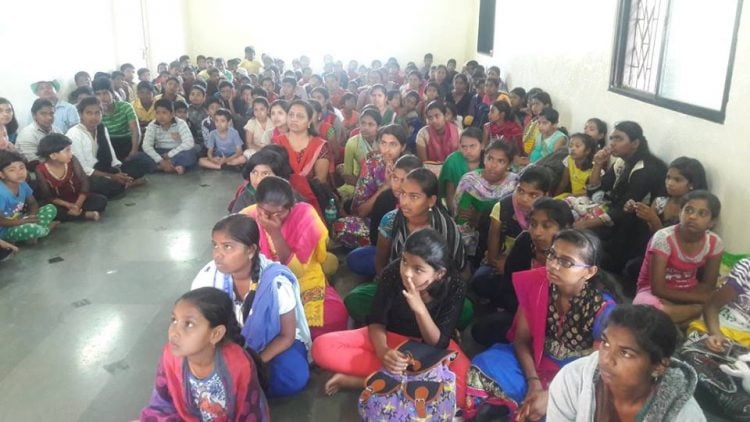 Photo: Utsav/Facebook
"I was raised believing that blood relations don't really mean much. For me, my understanding of a home was based on what I had seen – my mother and her large family," Sindhutai's daughter, Mamata, says. "When I grew up and started seeing the families of my friends, I realized that home means parents, siblings and all these relations. I would see my mother and the satisfaction that she derived from her life. The drive that she had indirectly influenced me. I graduated in Psychology and then pursued Masters in Social Work. After completing my degrees, I have been working with Mai (mother)."
"There are so many children who turn to crime, who make their life worthless. I have completed my law degree and Mai recently got me married,' 26-year-old Vinay Sakal, who was adopted by Sindhutai from a railway station when he was a baby, said. "The family that I have today is with the blessings of Mai. I was able to become so much, achieve so much, only because of Mai. Had she not been there, I would have been a big zero."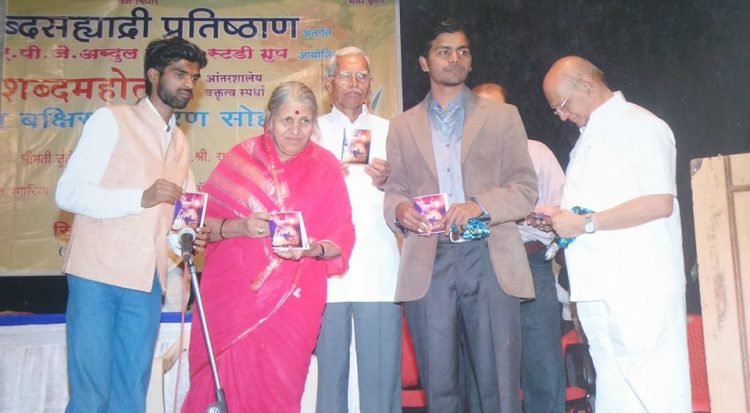 Photo: Mind Orbit/Facebook
"Not only me, she has raised thousands like me with so much love and care. I am not the only one. There are so many who were found on railway stations, in dustbins, babies dragged by stray dogs and discarded have been brought by Mai and taken care of. Everyone here gets the love of a family, of a mother, father, brother and sister," Vinay added.
Having raised over 1,400 children in her orphanages, it's no wonder that the Mother of Orphans has received hundreds of awards -over 750 of them – over the last four decades. She was honored by three Indian presidents and her story has received international media coverage. And yet, instead of offering her support, the Government is only trying to humiliate Sindhutai.
MoneyLife reports that last year, the Maharashtra Department of Women and Child Development (WCD), started pressuring Sindhutai Sapkal to hand over her children to state-run orphanages, because her were technically illegal. They argue that because her institutions are not registered with the WCD, they don't have a right to operate. What they don't mention is that Sapkal, her daughter and her eldest adopted son have been desperately trying to have them registered ever since 2011.
What's even more ironic about the whole situation is that in 2010 the government of Maharashtra honored the Mother of Orphans with the Ahilyabai Holkar Award, for her outstanding work in the field of woman and child welfare. Her orphanages were apparently ok then, but six years later they are claiming that she is operating illegally.
"The real tragedy is that when a person, following a certain principle, powered by immense confidence and grit, creates a world for orphans; takes utmost care of them, nourishing them by continuously asking for alms; that motherly figure is (leave alone being given a government grant) being denied recognition, by the government," Vinay Sakal told Money Life.
"Our Mai is tired of sending proposals to this department to get recognition since last five years, i.e., year 2011. The government, that is, the officers and members of the department of women and child development, have constantly denied us recognition, under one pretext or the other, referring to irrelevant points as mistakes in an unreasonable manner."
Despite these problems, the Mother of Orphans still travels around Maharashtra giving speeches and raising money for her orphanages. She often leaves villages with 2-3 new children that she gladly takes into her care.
"After the speech is done, the village head would tell me that there is one child who parents are dead and he or she has no one. So I take the child with me. The village head gives me in writing that the child belongs to the village and that there is no one to take care of him and that the village is giving the child's custody to me. Then the child is mine," the amazing woman said.
"I am a mother to those who have nobody. I take them under my refuge, take care of them, raise them on the right track – that is where my happiness lies."