A hot-pot restaurant in Taipei, Taiwan, recently got a lot of attention online after photos of young bikini-clad waitresses serving and interacting with customers went viral.
The hot-pot restaurant business in Taiwan and mainland China is very competitive, and it's very hard for newcomers to get an edge by relying solely on the quality of the food and impeccable service. So the owners of 'Fresh Feast', a new restaurant that opened in the Songshan district of Taipei, decided that they needed some extreme marketing in order to get the word out about their eatery and attract customers. For the grand opening, they hired five good-looking models and had them serve customers dressed only in skimpy bikinis.
Their strategy worked better than they expected, as just a couple of days after the event, photos and videos of the beautiful waitresses went viral online, with thousands of people weighing in on the unusual sight. Some loved the idea of giving new meaning to the word "hot-pot", while others were complaining about how degrading it was for women to be used as advertising. But everyone was talking about it, which was just what the owners for aiming for.
Thanks to social media, photos of the attractive waitresses soon reached international audiences and got mostly positive feedback.
"I haven't been to Taiwan. I think it's about time I go on an adventure," one Facebook user wrote.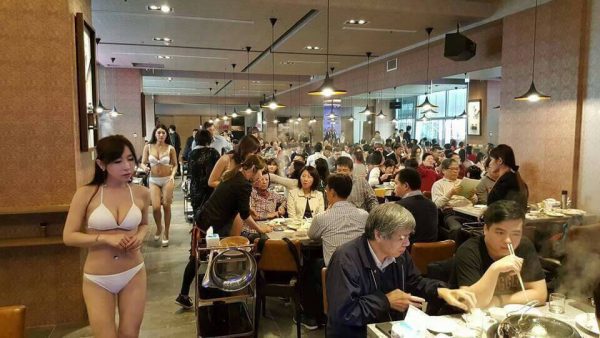 "I need me some of that! Can someone set up a restaurant like this already?" another person commented.
And while this was just a one-time promotional event, one hot-pot restaurant Haikou City, China, did adopt a mandatory bikini dress code for its staff and got shot down for it last year. Local authorities said that the approach was in "low taste" and went against Chinese socialist values.
Photos: Facebook
Source: UDN (Chinese)