When Andy Poineau of Boyne City, Michigan, posted a set of photos showing him seemingly levitating on the clear water of Lake Charlevoix, he had no idea he would soon become an overnight internet sensation. But looking at the photo below, it's easy to see why people went crazy over it.
At first glance, this photo of Pointeau, a 63-year-old architect, sitting on what looks to be still water, looks like a classic case of botched Photoshop. It just looks like someone cropped him and his shovel out of another photo – probably of him shoveling snow – and just placed him in the middle of the lake. But as several photo-editing experts have already pointed out on social media, this image has not been altered in any way. It's just a rare photo of a brave man sitting on the perfectly clear ice of a frozen lake.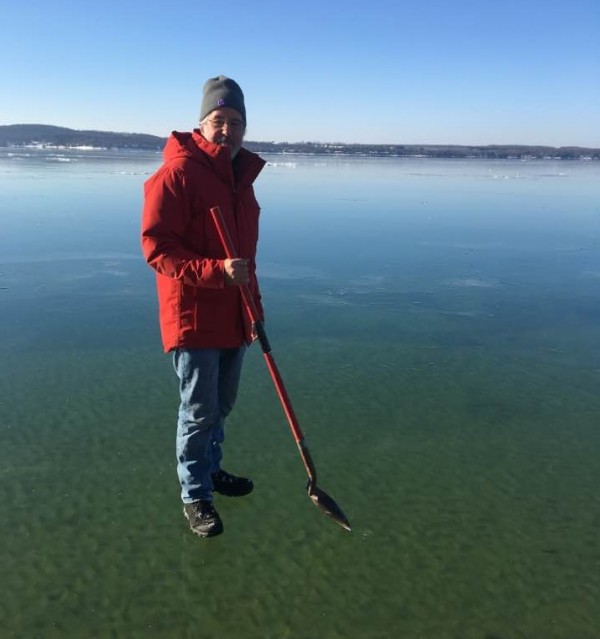 Photo: Andy Poineau/Facebook
After posting a set of photos of his day on Lake Charlevoix on his Facebook page, on January 16, Andy Poineau managed to draw the attention of his online friends, some of which couldn't help sharing it on their own accounts. Eventually, on of the photos was picked up by the Facebook page of Physics-Astronomy.com, where it was shared over 70,000 times. That was only the beginning, as soon the photo made the front page of Reddit, and was featured on various major news sites. Poineau's phone started ringing, and before he could realize what was going on, he was doing phone interviews with the likes of USA Today.
"It's gotten so many views, I just never knew how fast something could go like this," the 63-year-old man said. "I am completely blown away by this whole explosion."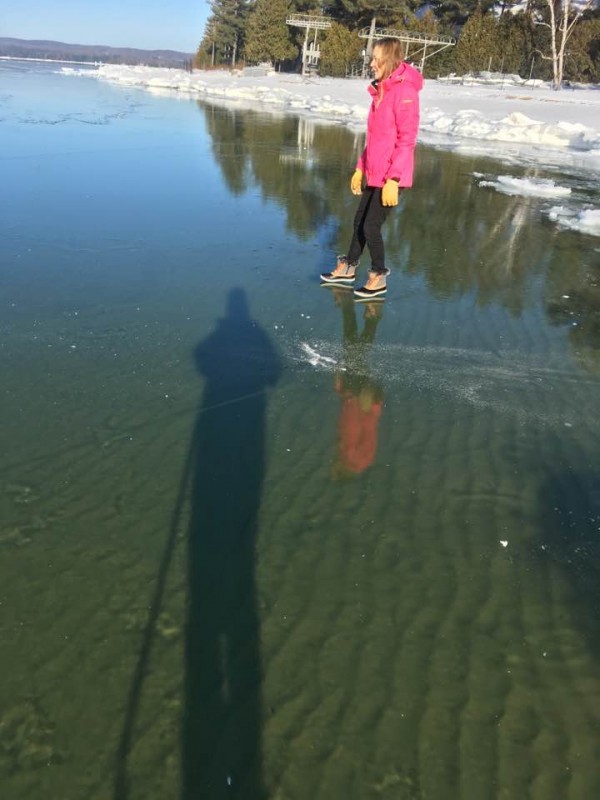 Photo: Andy Poineau/Facebook
Many of those who have seen the photo still can't believe it is 100% Photoshop-free, and it's hard to blame them, but Poineau claims he has seen this kind of clear ice several times before. "I have seen this many times over the last 50 years, maybe 5 or 6," he said. "I'm sure there has been many more but not many are crazy enough to get out and check it out." He was, though, but admits venturing on such clear ice is pretty scary.
"It's hard to tell how thick it is by looking at it," Poineau told Petoskey News. "I first threw a big rock on it and it didn't do anything. But it was creepy because I didn't want to walk out there too far. It was a little scary. That's why I had the shovel with me, I was using it to make sure the ice was ok."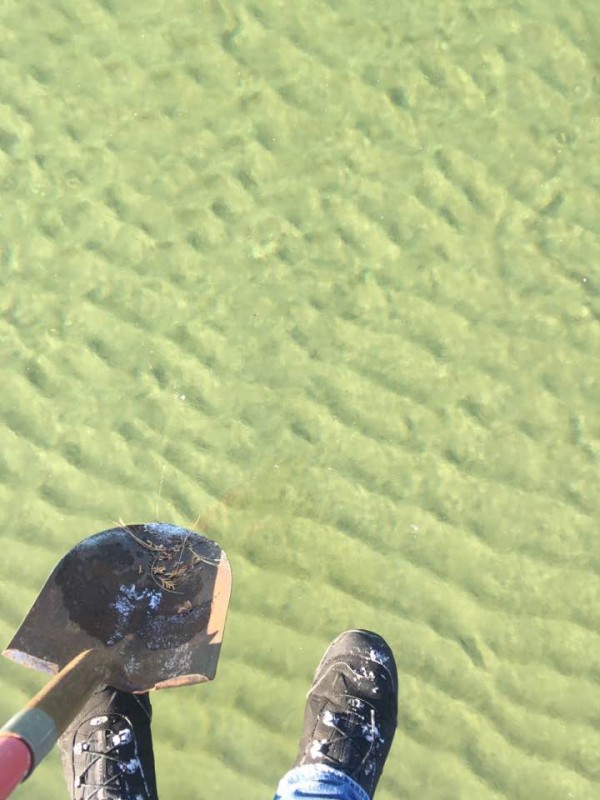 Photo: Andy Poineau/Facebook
Andy told FOX 2 that the ice was about 2 1/2 inches thick, which he described as thick enough to support him, but still scary because it was so clear. It didn't stay that way for very long though, as Poineau also mentioned that he went back to Lake Charlevoix a couple of days later, to find that air bubbles had formed and the ice was less clear. He was just lucky to capture his "magic window" on camera.
As to what caused the lake to freeze the way it did, I couldn't really tell you, but Reddit user FrozenClear does a good job of explaining it: "Ice is clear when the dissolved gasses such at oxygen, nitrogen, and carbon dioxide are excluded from the water crystalline structure (ice lattice). In nature this happens by a combination of freezing slowly and having moving water underneath."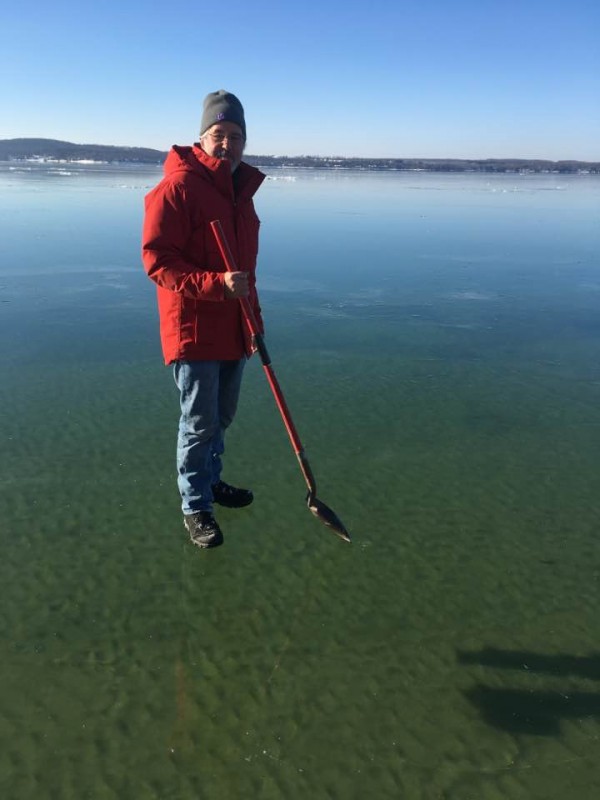 Photo: Andy Poineau/Facebook