Harlso, a five-year-old dachshund from Belfast, Northern Ireland, has risen to internet stardom thanks to one impressive talent – balancing things on his head while standing really, really still.
From glasses filled with water, to donuts and squeaky toys, there's nothing that Harlso the "King of Balancing" can't balance on his tiny head. It all started three years ago, when his owner, Paul Lavery, jokingly placed a squeaky toy on his head and was surprised to see the tiny canine sit as still as a statue, while trying to look up the object. Up to that point, Paul and his partner, Jen Scott, had tried teaching Harlso the usual tricks, like 'sit', 'lie down', 'roll over', but he just wasn't interested. The first time he saw his pup balancing that squeaky toy in his head, Paul remembers calling his girlfriend: "Jen! Harlso has a hidden talent!"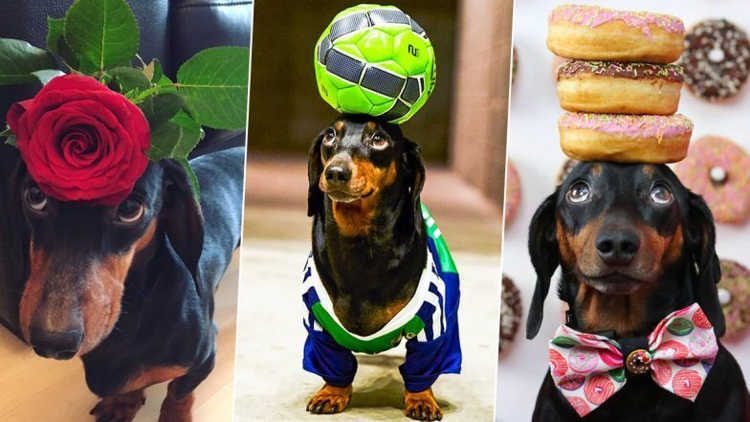 Photos: Harlso/Instagram
Soon after discovering the dachshund's talent for balancing things on his head, in February of 2016, Paul and Jen set up various social media accounts for him, and in just a few months, he already had around 14,000 followers, some of which started getting in touch about opportunities of meeting and petting Harlso.
"It really started growing quite quickly. People from all over the world follow him," 30-year-old Paul Lavery said. "When we created the Instagram account it was mainly just for us, family and friends. We never expected it to take it off. I just thought 'who is going to be interested in seeing these photos and videos?'"
"Harlso's got his very own VIP fan club for the most dedicated fans and we get messages from people wanting to meet him," the canine celebrity's owner added. "We got one message from an Australian couple who said they were in the area and asked if they could pencil in a time to meet him and pet him."
The adorable pooch can apparently balance anything on his head, but his owners don't use anything that is too heavy or remotely dangerous for him. They stack cookies, donuts, flower, small containers full of liquid, and he'll just sit there like a statue, wearing one of his over 300 bow-ties.
Lavery says people are always asking him for training advice "like he's Caesar Milan", but he claims he has nothing to do with Harlso's talent. He may decide to stop balancing things on his head one day, but for now he's happy to do it, and usually nails the trick on first try.
Harlso the dachshund currently has over 111,000 followers on Instagram alone, has won a 2019 Webby Award, is listed as one of the Guinness World Records 'Amazing Animals', and recently won Northern Ireland's Social Media Personality of the Year, beating several humans to the title. And he's achieved all that thanks to a cute and unique talent.
Speaking of Instagram animals that do more than just look cute or pretty for photos, check out Ghost, the singing samoyed.