El Rey Magnum, a young Arabian colt bred to have an extremely dished face, wide flared nostrils and widely spaced eyes, features that combined make the animal look cartoon-like, has sparked a heated debate about extreme selective breeding.
The first photos and videos of El Rey Magnum were released by its owner, Washington-based Orrion Farms, late last year, and had quite a polarizing effect. While many equine enthusiasts were quick to call El Rey Magnum the most beautiful horse in the world, some experts declared themselves horrified by some of the animal's extreme features, and warned that they could negatively affect its health.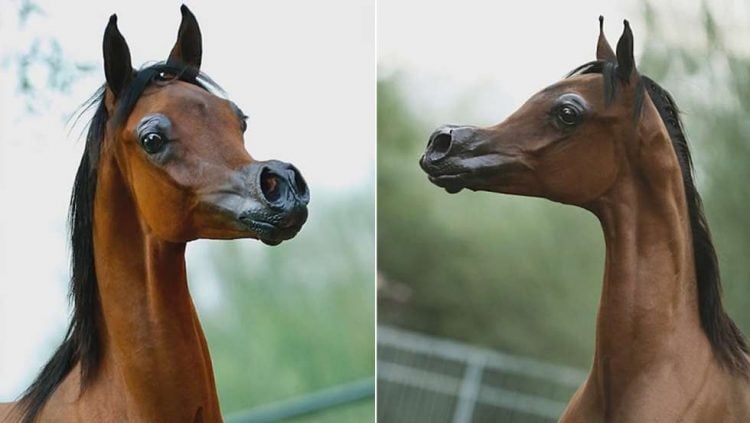 Photos © Orrion Farms
A dished profile and large flared nostrils are iconic characteristics of Arabian purebreds. They help the horses breathe in their native desert environment, where the air is dry, enhancing airflow into the lungs and giving them their legendary endurance. However, in the case of El Rey Magnum, these natural features have been pushed to the extreme through selective breeding, to give it a unique, almost cartoon-like appearance.
Orrion Farms primary breeding advisor, Doug Leadley, has described El Rey Magnum as a "stepping stone to getting close to perfection" and dismissed criticism, saying: "I think most of those people don't breed horses, or show them or aren't very involved – those are people who don't understand."
Some equine experts are worried that El Rey Magnum's extremely dished profile could make it very hard for him to breathe properly.
"Dogs like man can mouth breathe, but horses can only breathe through their nose. I suspect exercise would definitely be limited for this horse," equine expert Tim Greet told Veterinary Record Magazine.
Others are simply concerned about how far some breeders will go to meet the needs of a certain market.
"My first thoughts were 'is this the work of CGI trickery?" Veterinary Record editor Adele Waters wrote. Many specialist horse vets have had a similar reaction. But the truth is this is a real horse and it has been bred to meet the demands of a particular market that likes a particular appearance. Where will it end? Is it really so bad for a horse to look like a horse and not a cartoon character?"
But despite the criticism, or maybe even because of it, El Rey Magnum has spurred the interest of many equine enthusiasts around the world. Orrion Farms claims that the one-year-old show horse is already worth millions of dollars.