Maru, a one-year-old Bullmastiff traveling on train through the Siberian taiga, reportedly jumped off and walked over 200 km trying to return to the owner who had rejected her.
Born at a dog kennel in Novosibirsk, Maru was sold to a family in the Siberian city of Krasnoyarsk, 800 km away, when she was only five months old. However, six months later kennel owner Alla Morozova received a call from the dog's owners informing her that they were allergic to animals and could no longer look after their pet. The contract stipulated that in the case that the buyers no longer wanted a dog, they should inform Morozova first, so she could make arrangements to retrieve them. She had someone get Maru and accompany her on a train ride back to Novosibirsk, but 200 km into the journey, something went wrong.
Photo: The Siberian Times
"The dog had a panic attack, she was frightened," Alla Morozova told the Siberian Times. "She had been brought by her owners, then they disappeared somewhere. The noise of the train scared her, she jumped on the compartment  door, kicked the handle to open it, and almost threw the conductor out of the way. When the door opened to the platform, she jumped out into the night, into the taiga."
Maru jumped out of the train as it was approaching the station in Achinsk, a city between Krasnoyarsk and Novosibirsk, and although the person accompanying her screamed for her to return, she disappeared. After hearing the news, Alla called her former owners to tell them that Maru was all alone and scare. She asked them to help her look for the dog, but they flat-out refused.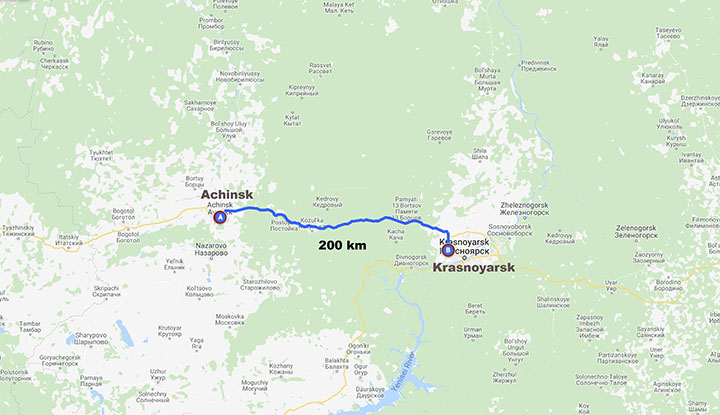 Photo: The Siberian Times
"That angered me. The owners were not upset at all, like, well, the dog is lost and that's all right," the kennel owner said. That was their answer. They gave the dog away and the load fell off their shoulders."
But Morozova wan't about to give up on her dog. She posted message about her online and distributed leaflets asking for information. Two and a half days later, she was relieved to hear that Maru had been found, but shocked to learn that she had been located in the Krasnoyarsk industrial area, most likely as she tried to return to her former owners' home.
"Volunteers found her in an industrial zone," Alla said. "The dog was very tired. She was lame, her paws were broken. The pads were damaged. Her muzzle was broken. She had walked and run for two and a half days. Luckily neither bears ate her, nor wolves chewed her up."
"I'm sure that she was looking for her house. Dogs are very attached to people," the dog breeder added. "She did not run to Novosibirsk, she wanted to go back where she lived. It is surprising that she went the right way. Geographically, she had no reference points at all. In the city she used to walk only in the yard, she never went anywhere else. And  to make her away through the wild taiga, it is an amazing case."
A friend of Alla's recently drove Maru to her kennel in Novosibirsk, where she was reunited with her mother and father. She is currently undergoing treatment to recover from the ordeal of walking 200km through the Siberian wilderness.