A Chinese animal lover who took in hundreds of stray dogs over the last two years is struggling to make ends meet despite having a stable job and his own business. He has accumulated a debt of 600,000 yuan ($87,000), but he refuses to give up on his four-legged friends.
Up until two years ago, Zhang Kai, a 41-year-old man from Chengdu, China, had a peaceful, comfortable life. He was the manager of a state-owned company and had just opened his own travel agency. But everything changed when his 13-year-old dog, which he had raised since 2003 suddenly died. The tragic event left a void in his life, and somehow made him pay more attention to the countless strays in his city in need of a home. At first, he took in two of them and raised them in his travel agency office, but before he knew it he was taking care of eight strays. Things just snowballed from there, and today he is struggling to take care of 260 dogs, relying solely on bank loans and donations.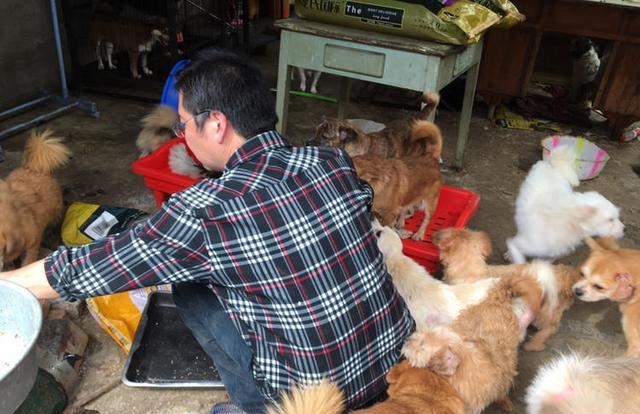 When Zhang realized that having eight dogs in his travel agency office was affecting his business, he rented a home on the outskirts of Chengdu to raise his animals in. That only worked for a while though, as the animals' noises disturbed the neighbors and he had to move them several times, until he finally found an abandoned factory 10 minutes away from his home where he started his animal sanctuary, Little Angel Animal Protection Center.
Raising eight dogs, while impossible for most of us, would have been manageable for Zhang Kai, but he started bringing in more strays almost every day. He started going on feeding runs on the outskirts of Chengdu, where large numbers of stray dogs roamed, and whenever he would see any in need of medical care, he would bring it to his sanctuary. It wasn't long until the cost of keeping the dogs surpassed his monthly paycheck and business earnings, so he started taking bank loans.
Animal lovers impressed by his dedication started making donations, but with the number of dogs growing steadily, they proved insufficient. At the beginning of 2019, Zhang Kai's brood numbered 300 dogs, the largest it's ever been, but some of them got adopted, so he currently has around 260 animals under his care.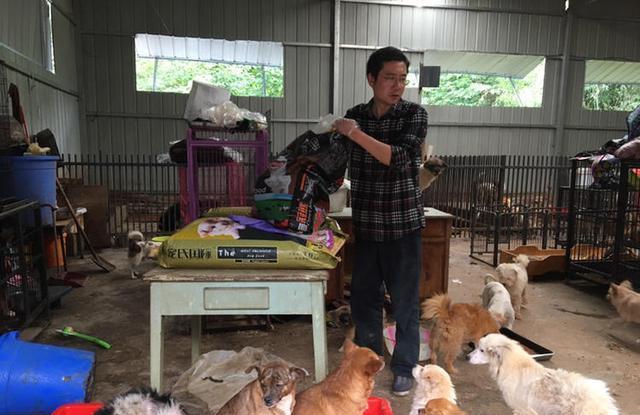 Back in May, Zhang told reporters that he spends around 20,000 yuan on his dogs every month. He buys  at least two 40kg bags of dog food every day, and also pays two workers around 6,000 yuan a month to look after them. That monthly cost is a conservative estimate, as it doesn't take into account any medical expenses.
Two years ago, when the animal lover took out his first bank loan of 200,000 yuan ($29,000), he thought he would pay it back in no time, but as the number of stray at his sanctuary grew, so did his debt. At the beginning of this year, he was 600,000 yuan in debt, and secretly took out 20,000 yuan from his father's credit card just to cover his monthly expenses. When his parents questioned him about it, he had no choice but to tell them that his savings were all gone and he was heavily indebted.
"We knew that he was raising dogs, but we had no idea he had so many of them and that he had accumulated so much financial debt," Zhang's mother, Huang Mingshu, said.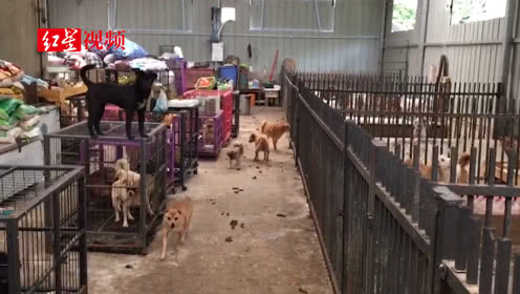 Zhang Kai's elderly parents, ages 69 and 70, have been forced to keep on working instead of enjoying their pensions, just to help him keep up with expenses. They've managed to help reduce his debt, but when Zhang checked his balance last month, he still had 510,000 yuan ($74,000) to pay to the banks.
"If it weren't for him raising his dogs, we would all be fine, but now the whole family is burdened by debt," Huang Mingshu told People.com.
Zhang Kai's financial situation is dire; he knows it and so does everyone around him, but he's not willing to give up on the dogs. To make matters worse, most of the animals under his care are either full-grown or sick, so the chances of adoption are minimal.
"I you've ever raised a dog, you know that they are almost human," Zhang Kai said. "No one else wants them, it is my responsibility to take care of them until the end of their lives."