As a male calf born on a small cattle farm in France, Aston was originally destined to be slaughtered for meat, but after forming a bond with a horse trainer he became a showjumping bull instead.
Five years ago, Sabine Rouas, a horse trainer from Strasbourg, France, had just lost a horse that she had spent 20 years of her life with and felt that she couldn't get attached to a horse anymore. Instead, she became interested in a family of cows living on a nearby organic milk farm. One of the cows she spent time with was pregnant at the time, and Sabine believes that the calf may have gotten used to her voice while still in its mother's womb, because soon after it was born, it started following her around whenever she came by. Unfortunately, the farmer wasn't interested in keeping a bull on a milk farm, so he planned to have the calf, named M309 at the time, slaughtered at only three months. But Sabine wasn't going to let that happen.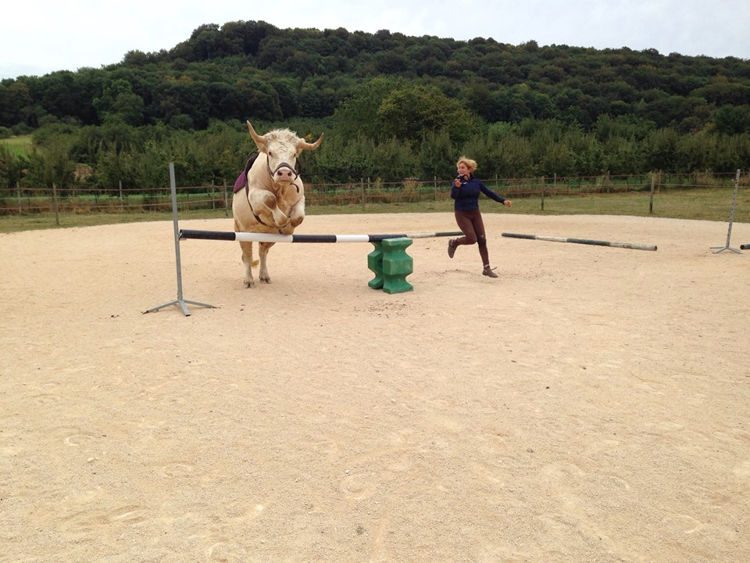 Photo: Aston Le Taureau/Facebook
The horse trainer had to fight with the farmer to keep him from selling the male calf to the slaughterhouse, and when he turned one year old, she adopted both him and his mother and relocated them to her own stables. At around the same time, Rouas took in Sammy, a pony, and started training him as a showjumping horse. The calf, who she renamed Aston, spent most of his time with Sammy, and the two became really close. But one thing Sabine wasn't expecting was for the bovine to pay close attention to her training routine with the pony and actually pick up some of the tricks.
View this post on Instagram
"I was teaching Sammy some basic tricks, and Aston was taking notice," Sabine told SWNS. "I tried to teach tricks to Aston. It wasn't riding him then, but tricks like following my voice, and walking him. That's when I had the idea of trying to ride him when he was bigger."
View this post on Instagram
Getting a 1.3-tonne bull used to being ridden was a bit complicated, but Aston was quite receptive and Sabine was very patient with him. She started by getting him used to a thin rope around his breast and a thin blanket on his back, and then used an elastic around his thick neck. It took a year for Aston to really become comfortable with Sabine on his back, but he has since picked up some showjumping tricks as well.
View this post on Instagram
Aston and Sabine started performing at local fares about three years ago, and news of the massive showjumping bull spread like wildfire. Today, the pair travel to showjumping and dressage exhibitions all around Europe, and even though Aston sometimes gets a bit nervous, because he doesn't like being away from Sammy the pony for too long, Sabine says he's very happy.
View this post on Instagram
"He's very proud when he feels that he's made me happy," Rouas told Storytrender.
Although he still has a lot to learn, Aston has already mastered dressage tricks like trotting, galloping, stopping, going backwards and turning around on command, and despite his massive frame, he can leap over 1-meter-high obstacles with Sabine on his back.
Apart from the fans cheering for him at showjumping events, Aston also has an impressive online following, with over 11,000 Facebook fans and 3,400 followers on Instagram.
I have a feeling Aston would get along great with Lilac, the showjumping cow we wrote about a couple of years ago.