They've been called the "world's most beautiful cats", and they've been mesmerizing social media users with their heterochromatic eyes for the past couple of years. They are Iriss and Abyss, the feline twins taking Instagram by storm.
Iriss and Abyss have nearly 200,000 followers on Instagram who love nothing more than to watch the two gorgeous white cats show off their differently colored eyes. Many of their fans are convinced that the two are pure-bred Angora or Turkish Van specimens, but they are in fact cross-bred from a white domestic cat and a black and white cat, and owe their social-media fame to winning the genetic lottery. Their Russian owner says that the fact that the two felines were born with white coats and heterochromatic eyes – yellow and the other one blue – is nothing short of a natural miracle.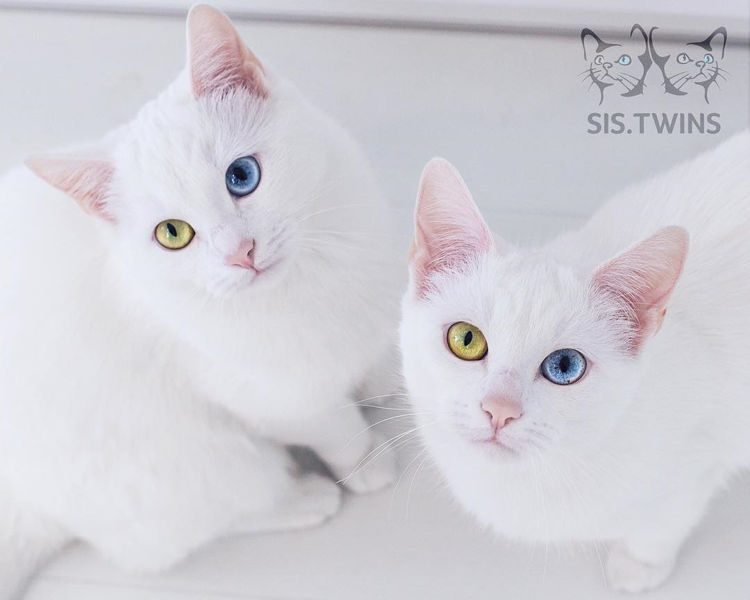 Photo: Sis.Twins/Instagram
"All the pure breeds are the results of generic selection. But the fact, that we have no distinct breed, and got all these fantastic features is truly amazing!" Sankt Petersburg-based Pavel Dyagilev said. "Such a chance is one in a million! And we feel so blessed, that we've got that chance!"
View this post on Instagram
Dyagilev told Barcroft Animals that he fell in love with Iriss and Abyss as soon as he saw their picture in an advertisement that their previous owner posted online. He adopted them immediately, and decided to share their beauty with the world via Instagram
View this post on Instagram
Even though they are identical twins, the three-year-old cats apparently have very different personalities. Iriss is "more easy-going", while Abyss has the personality of a "true diva" and she will only interact with you only when she wants to. However, they both seem to love posing for pictures.
View this post on Instagram
The unique appearance of Iriss and Abyss has turned them into Instagram stars, but when it comes to the unofficial title of most beautiful cat, the two have some serious competition, like Corby the Cat, whose deep blue eyes have mesmerized over 1.4 million Instagram users.
View this post on Instagram
View this post on Instagram
View this post on Instagram
View this post on Instagram