To a regular person, Spitfire the dog may look like just another Whippet, but to connoisseurs of the dock diving circuit, he is an incredible athlete in the same league as icons like Michael Jordan, Tiger Woods or Babe Ruth.
Before the Covid-19 pandemic hit, eight year-old Spitfire and his 16-year-old handler, Sydney, dominated the dock diving circuit like never before in the history of the sport. If you're unfamiliar with the sport of dock diving, it's essentially canines running on a wooden dock and jumping as far or as high as possible before diving into a pool of water. And no dog does this better than Spitfire. Between 2016 and 2019, he broke a whopping 21 world records, jumping farther and higher than any other competitor and securing his status as the GOAT of dock diving.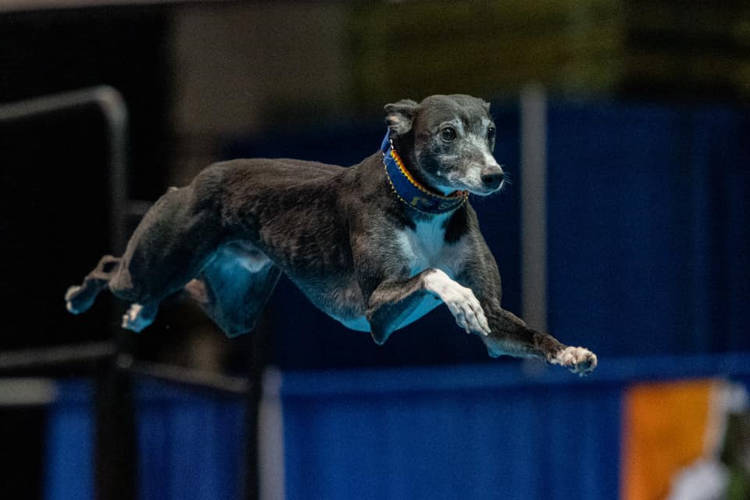 Photo: Spitfire the Whippet/Facebook
Spitfire came into the Mackey family in 2013. Back then, he was just an adorable pooch with big puppy eyes that Sydney instantly fell in love with, but his athletic qualities were undeniable. The whippet was bred by a heritage breeder, inheriting great genes from both parents, but even so, his first experience with dock diving surprised everyone.
View this post on Instagram
Sydney and her mother learned about dock diving in 2016, from a family friend who encouraged them to try it with Spitfire. In May of that year, they decided to give the sport a try and their pet proved to be a natural.
View this post on Instagram
"He wasn't shy, or scared or reserved about it, he just humped into the water," Sydney's coach recalls about Spittfire's first ever dock dive. "Right away I went 'just hold on, because this is gonna be fun, like that dog is going to take you places that you would have never imagined.'"
View this post on Instagram
It wasn't long after that very first jump that Sydney and Spitfire started making waves in the world of dock diving. They took the sport by storm and they dominated events across the United States like no team had ever done before. In three years time, they broke no less than 21 world records, and became known as an unbeatable duo.
View this post on Instagram
Before he leaps into the air, the world's best dock diver reaches a speed of about 30miles per hour, and when he takes to the air he can reach a distance of 31 feet before hitting the water, or whopping 8ft 6 inches, when he's going for height. It's no wonder they call him the flying dog…
But while Spitfire is undoubtedly the star of the show, most dock diving experts are convinced that despite his athletic abilities, he would have never reached his true potential without his young handler's guidance. Sydney's  "Ready? READY? GoGoGoGoGOGOGOGOGOGOGO" pep-talk to get Spitfire fired up has become famous on the dock jumping circuit, and everyone acknowledges her merits.
Even though the pandemic really took its toll on dock diving as a sport, Spitfire has been keeping himself busy by winning new titles and setting new records. Even though he's not as young as he used to be, he continues to dominate the sport and has already cemented his legacy as one of the best ever, if not the greatest.