When you think of possible emotional support animal species, alligator probably isn't at the top of the list. But that didn't stop one Pennsylvania man from relying on a hug-loving alligator to keep his depression in check.
65-year-old Joie Henney received approval from his doctor to use an alligator as an emotional support animal, after refusing to go on medication for depression. Named Wally, the unlikely pet reportedly likes to snuggle and loves being hugged and petted. Henney describes the five-foot-long alligator as a big softy, telling reporters that he never bit anyone and is even afraid of cats. Despite being fully aware of the fact that Wally could rip his arm off if he wanted to, the 65-year-old says he isn't afraid of him at all.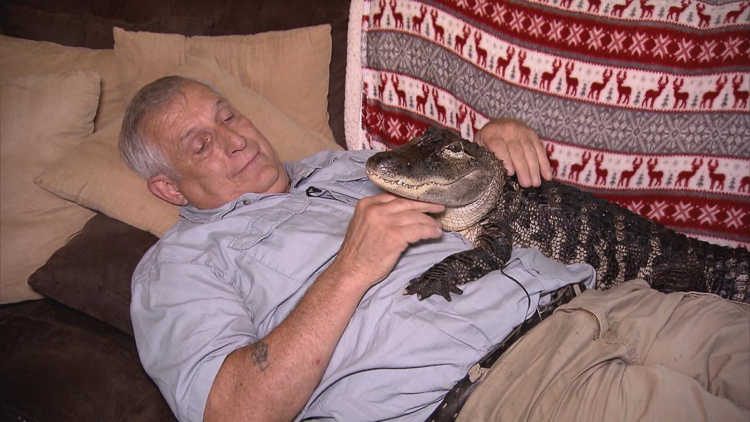 Photo: Inside Edition
"He's just like a dog," Henney said of his cold-blooded friend. "He wants to be loved and petted. He helps me keep my spirits up. When I'm down it's almost like he can sense it … He will come over to me on his own. He also has climbed into my bed with me when I'm not feeling well."
Wally will turn four this year, and might one day grow to be 16-feet-long, but if Henney wouldn't have taken him in as a pet, he most likely wouldn't be around anymore. Wally was found by a friend of Joie near Orlando and if he hand't offered to take him, the animal would have been killed. But little did Henney know that he would be saving his own rescuer. He was battling depression, but quickly noticed how much better he was feeling around the young alligator.
"When I came home and was around him, it was all OK," Henney told The Inquirer. "My doctor knew about Wally and figured it works, so why not?"
So Wally became a registered support animal, and Joie started taking him everywhere with him. They go on walks in the park, do the shopping together and even go on meet-and-greets with the residents of nursing homes, where Wally is always the center of attention. But he's Joie Henney's support animal first and foremost.
"I don't know what I would've done without him," Henney said.