We've featured our share of famous internet felines, from grumpy cats, to incredibly beautiful fur balls, but we never really posted about scary-looking felines. That ends today, with Xherdan, the scariest-looking sphinx you've ever seen.
The phrase "a face only a mother could love" is usually used maliciously, but in the case of Xherdan, a bald, wrinkly and evil-looking cat, it couldn't be more true, And his mother, 47-year-old Sandra Filippi, from the Swiss town of Rüti, does indeed love him very much and claims that despite his scary look, he is a sweet pet who loves to sleep and interact with his human owners. She claims that although most people are indeed a bit scared the first time they see Xherdan, they eventually grow to like him after seeing how playful and friendly he really is.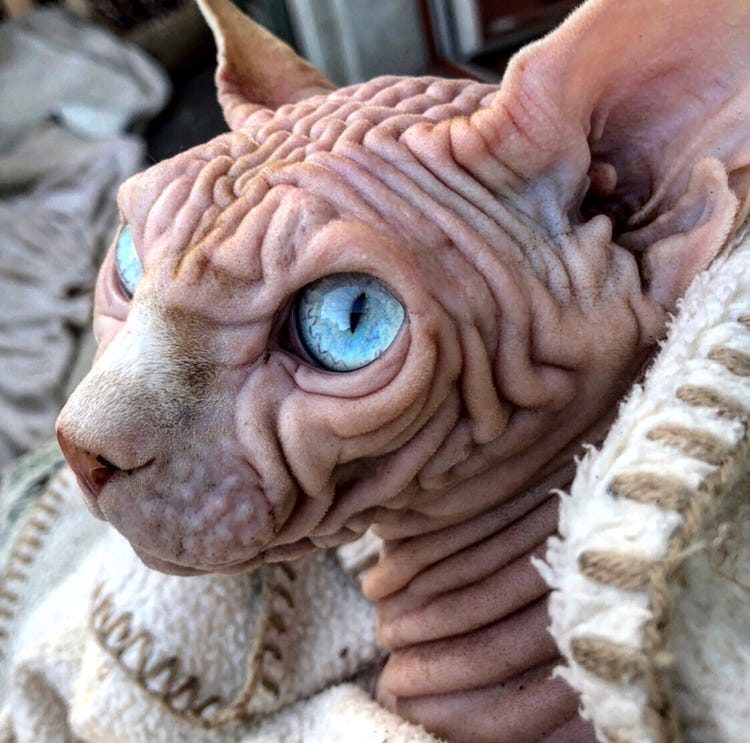 Photo: Xherdan the Naked Cat/Instagram
"When I first saw him, he immediately stole my heart. His wrinkled pink skin, as fine as a peach, and his turquoise eyes, I was in love!" Sandra recently told Caters News. "He has had this many wrinkles since the day he was born."
"Xherdan is a very active cat and he talks a great deal, in all pitches, when he is excited, when he is hungry, when he plays or while cuddling and falling asleep, he is like a child and his character is very lovely," the cat's owner added.
After a video of Xherdan recently went viral online, people compared the wrinkly feline with a brain, a caterpillar or an alien, among other things, but to his owner, he couldn't look more perfect.
If you'd like to see more of the world's scariest looking cat, check out his Instagram and YouTube channels, where Sandra Filippi regularly posts photos and videos of her beloved pet.