Wallace the Great, an 11-year-old rescued mule from Gloucestershire, recently made history by becoming the first ever mule to win an official horse dressage competition in Britain.
Wallace and his trainer, Christie Mclean, had been turned down from official dressage events several times on grounds that he wasn't a true horse, but a cross between a horse and a donkey, which technically makes him a totally different species, with different chromosomes. However, earlier this month, British Dressage finally ruled in favor of allowing mules to compete in official dressage competitions alongside horses and ponies, as a testament "to inclusion and diversity in dressage, making the sport more accessible to all." Wallace the Great finally had a chance to prove that when it came to dressage, mules could be just as good, if not better than purebred horses, and on July 22nd he did just that, winning his first British Dressage competition.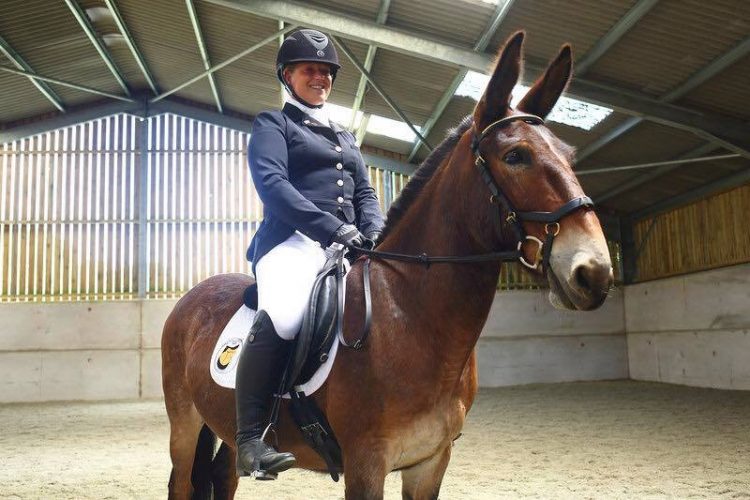 Photo: Wallace the Great/Facebook
"Wallace won first in the intro class, out of nine. We'll be having a glass of bubbly this evening to celebrate the UK's first mule in dressage," Christie Mclean said after the memorable win. "He was competing against cobs, ponies and horses. There was a bit of everything and he blew them all out of the water."
This is what you'd call a Cinderella story. Not long ago, Wallace was aimlessly wandering around a village in Ireland, surviving on scraps offered by kindhearted locals. He was rescued from a bus shelter by the people at Sidmouth Donkey Sanctuary, brought to England, and nurtured back to health. Lesley Radcliffe, who runs the Donkey Sanctuary with her husband Steve, is a good friend of Christie's, so six months ago she started training with him and his aptitude for dressage became clear.
Wallace performed so well that, when two of Christie's horses went lame before a dressage competition, she thought the talented mule could replace them. That's when she learned that mules weren't accepted by British Dressage, so she started campaigning for their right to complete against horses.
"When British Dressage said the rule book only refers to horses and ponies within its affiliated criteria, I was really surprised and disappointed," Mclean said. "I don't think it's a case of equine racism but more a case of the rule book being very out of date."
Luckily, the story of Wallace the Great, a dressage mule that wanted to compete against horses but wasn't allowed, spread like wildfire through the UK and received unexpected support from the public. People started pressuring British Dressage to change its archaic rules, and soon the association ruled that all animals born to a mare can take part in official dressage events.
"It is like a mule version of Babe the pig. Babe wanted to be a sheep dog, and Wallace is the mule that wants to be a horse," Christie said after their win at Summerhouse Equestrian, in Gloucestershire. "I think this shows that mules are equal in ability. I believe Wallace wants to do this. It's a double achievement – he's made history for mules, and British Dressage. It is a historic day which will never be repeated, a landmark."
"The pressure was firmly there, we'd come this far," Mclean said on Wallace's Facebook page. "He did everything I asked of him… he rode beautifully. I cannot thank everyone enough for the huge amounts of support for Wallace, knowing that he has a chance in life makes it even more heart-warming."
So there you have it. Who knew a mule's story could be so inspiring?