Kanathip Nathip, a 53-year-old man from Phitsanulok, Thailand,  never has to worry about locking the door of his home whenever he goes out, as anyone foolish enough to try and rob it would get the surprise of a lifetime. The Thai man shares his house with a full grown crocodile that's free to move around as he pleases and doesn't take kindly to uninvited guests.
Nathip got the crocodile 20 years ago, as a pet for his two children. He had taken them to a crocodile farm in Nakorn Sawan and they loved the reptiles so much that he ended up buying not one but two of them. At first both Thong (Gold) and Ngern (Silver) lived in the family home, but as time went by, it became clear that Ngern wasn't meant to be a house pet, so they built a small pond in the yard and moved him there. Thong, on the other hand, seemed much more comfortable in the house, so he's been living there for the past two decades. Even though Nathip's two sons have grown up and moved out of the house, the 53-year-old still has Thong, who he considers his third son.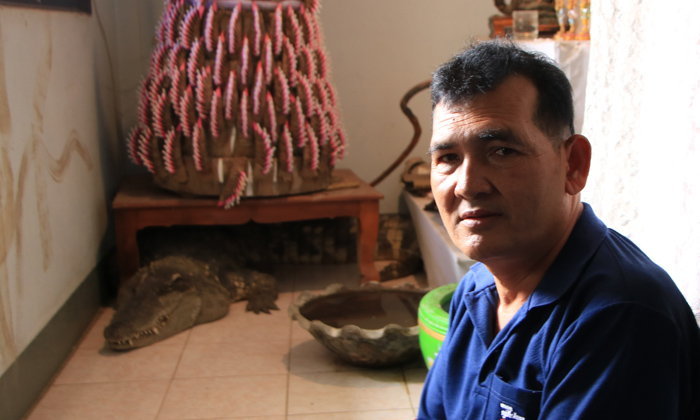 Photo: Sanook
The Phitsanulok man recently told Thai web portal Sanook that Thong has always been docile and has never harmed anybody. He mostly keeps to himself, spending most of his time under a small wooden table on the tiled floor of the house, and as long as he have food and water available, he's pretty happy. Nathip admits that the croc isn't the most affectionate pet a person can have, so he refrains from touching him, but he will let you stroke his scaly tale from time to time.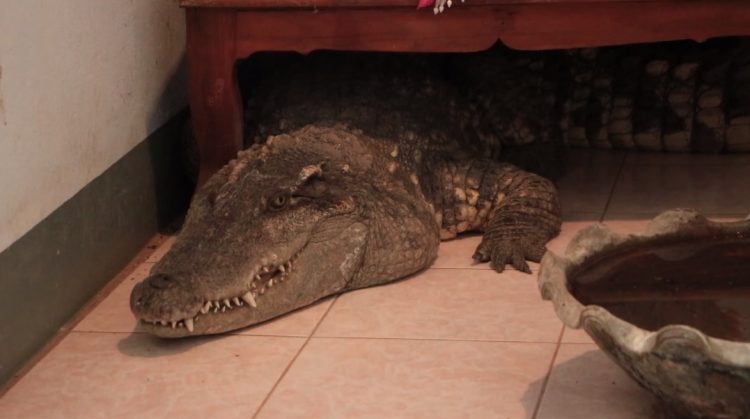 Photo: YouTube
All of Nathip's neighbors know about Thong and how docile he is, so whenever they see him sleeping in the middle of the street, instead of calling the police, they simply call Nathip to come pick him up.
Kanathip Nathip isn't the only person in the world to share their home with a crocodile. Earlier this year we also wrote about an Indonesian family who had been living with a 200kg gentle giant for over 20 years.