Taking nine pet cats on daily strolls through the city is kind of unusual, but having them sit in a baby stroller while you're pushing them around is bound to catch some eyeballs. So it's no surprise that the Cat Man of Kyushu attracts attention wherever he goes.
Masahiko Suga, a 55-year-old retired electronics company worker, first made headlines back in 2014, when photos of him walking nine beautiful cats in a baby stroller on the streets of Tokyo went viral. Japan is no stranger to weird sights, some of them involving cats, but this was new, even for them, so everyone took out their cameras and smartphones and started snapping photos. They made the rounds online for months, and Masahiko earned the nickname the Cat Man.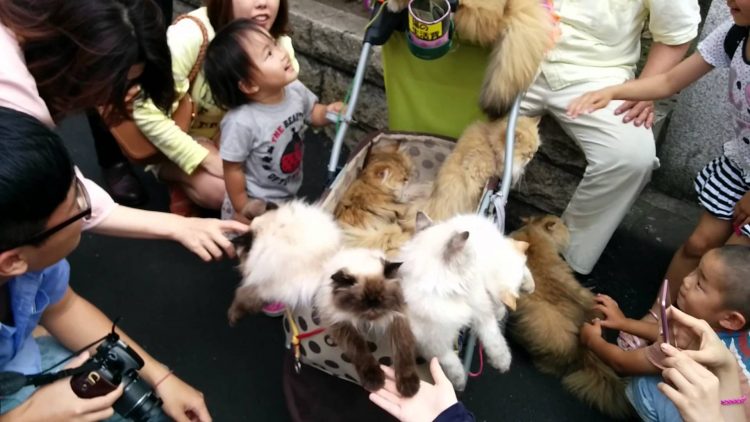 Photo: video screengrab
But while he achieved fame walking his cats in Tokyo, Masahiko Suga is actually known as the Cat Man of Kyushu, as he hails from the city of Kagoshima, on Japan's third largest island. That's where he adopted his first cat in 1999, followed by eight other siblings, and where he started parading them in a stroller. The Asahi Shimbun newspaper reports that he sometimes takes his pets to Tokyo in his van and treats them to a "walk" in the capital.
Paw Mane Fin claims that Suga came up with this unusual ritual as a way to calm his cats, who were wreaking havoc in his home soon after he adopted them. They were getting bored out of their minds and kept themselves occupied with his furniture, so he thought a bit of fresh air might do them good. He swears that the daily stroll cured the cats of their boredom, and they now look forward to their outdoor adventure and the attention they always receive from passers-by.
But the Cat Man's motivation for taking his pets out in a stroller evolved from a mere distraction for the pets into a message of equality for cats. Most dog owners take their pets out on walks daily, but that rarely happens with cat owners, and Masahiko Suga hopes that his ritual will change that.
"I want more people to feel attached to cats and learn how to interact with them," he told the Asahi Shimbun. "I hope society will eventually give cats the status it gives to dogs."
The daily strolls also allow people to interact with his pets, which has a therapeutic effect on both parties. His cats love the attention, and people get to relax and forget about their hectic lives.
"I am happy if I can give an opportunity for cat lovers unable to have one as a pet to feel comforted by playing with my cats," the Cat Man of Kyushu said.
Although most online articles about this unique character date from two years ago, photos of him and his adorable cats seated in their comfortable stroller are still posted online by people who bump into them on the streets of Kagoshima and occasionally Tokyo.
If you've scrolled all the way down here, you're probably into cats, so I thought you might find the heartwarming story of the Cat Man of Aleppo and Taiwan's Cat Village interesting.