Pratima Devi, a 65-year-old ragpicker from New Delhi, India, has dedicated the last three decades of her life to caring for stray dogs. Rummaging through trash and running a small tea stall barely allows her to support herself, but she'll gladly skip a meal or two to feed the hundreds of dogs she looks after on a daily basis.
The "Dog Lady of Delhi", ad Pratima has come to be known in India, never had an easy life. Born into a poor family, she got married to a man 10 years her senior when she was only 7 years old, and had her first child at age 14. Her marriage was not a happy one, as her husband would often come home drunk and beat her, and both she and her mother suffered at the hand of her in-laws. Her husband didn't have a job, so she had to work all day and take care of the house to make sure they had food on the table.
When he was 5 years old, the oldest of her three children went to New Delhi to work, and when living with her abusive husband became too much to bare, Pratima followed him to start a new life. There, she started working as a domestic helper in the house of a popular model-turned-actor, and later set up her own tea stall, in the Saket neighborhood of Delhi. It was here that she met her best friends, stray dogs.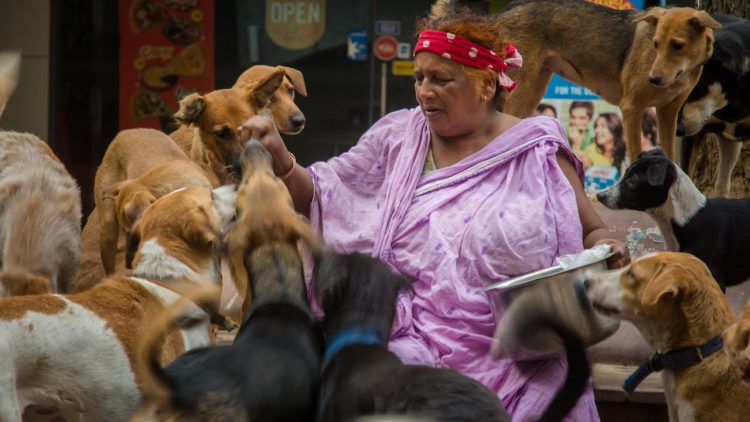 Photo: video screengrab
At first, she only looked after two dogs that lived in the vicinity of her stall, but soon they began to breed, and other dogs, either abandoned by their owners or rescued by Pratima following road accidents, started relying on her for food. She became very popular, both for her tea and her love of dogs, but her reputation made some of her neighbors envious. One of them actually tried to kill her.
"A neighbor who owned a departmental store conspired with two policemen and burnt down my tea-stall along with my house," Pratima told India Today.  I was injured and many of my dogs were also burnt. They spared no one."
Left with no means to support herself or her four-legged children, Amma, as she is fondly known, became a ragpicker, rummaging through street trash for scraps of food and anything she could sell or trade. The 65-year-old remembers that she ate nothing for four days, and couldn't feed her pooches either. But she greeted her teeth and pushed through the hardships just so she could continue to care for the dogs.
Pratima eventually managed to reopen her tea stall and is now able to dedicate most of her time to looking after her precious pets. She shares a tarp-covered shed with around 200 dogs, but there are another 200 of them that live in the nearby PVR complex and rely on her for their daily meals. In total, she takes care of around 400 dogs, feeding them at least two times a day, making sure they are neutered and providing medical care when they need it. If their condition is severe, she takes them to the local vet, and pays for everything from her own pocket.
The Dog Lady set up her children in a house she bought with her savings a few years ago, but refuses to go live with them, because they won't accept her dogs as well. "My son calls me all the time and tells me that he will take me to the village with him. But I don't listen to him, I want to do good for the dogs," she told Barcroft TV.
Instead she prefers to live under a tarp, run a tea stall and occasionally look through trash to supplement her income and make sure that she can provide a few meals for her dogs. For breakfast, she feeds them milk, and for dinner she buys 125 kg of rice and 5 kg of meat every day. She sometimes receives donations of dog food from local animal lovers.
According to Bit Giving, Amma takes in about a new dog every week, and even though that means more money spent on food, she's happy to do it. She has a few volunteers who pitch in as much as they can, but she still has days when she skips meals just so she can feed her beloved children.
"I love dogs, that's why I try to be with them most of the time and help them and care for them," Amma says. "If I am not with the dogs at night, they won't sleep without me. They won't eat anything without me. Taking care of dogs is my religion."
Pratima Devi is happiest when she's surrounded by her four-legged children, but she's not getting any younger, and she worries about what will happen to them when she's gone.
"I don't know whether there will be anyone after me taking care of them. The way I feed them, take care of them, after me who will take care of them, no one can take that place," she says.
"I just hope to find someone to replace me, someone to look after them the way I do," a teary-eyed Pratima told 101 India. "I request the public to help this old lady out, because I want to do so much for them, that's all I want!"
The Dog Lady of Delhi reminds of another Indian animal lover who sacrificed his comfortable life to look after hundreds of stray dogs. His name is Rakesh Shukla, The Dog Father, and his story is just as inspiring.