If there is such a place as heaven for farm animals, it must be a lot like Santuario Igualdad Interspecies, an incredible sanctuary for domestic animals destined for slaughter or left for dead. Here, not only do they get to live in perfect peace and harmony, but they receive all the love and affection they deserve.
A couple of days ago, I cam across this incredible video of a man cuddling with a grown cow. The animal seemed to be enjoying the human affection immensely, and responded by gently laying its head on the man's chest and closing its eyes in delight as he petted and kissed its neck. It was very touching, and I decided that I had to learn more about it. I soon discovered an entire YouTube channel full of similar videos of two people affectionately interacting with various farm animals, like pigs, goats or ducks. They were shot at Santuario Igualdad Interspecie, a small animal sanctuary, in Chile, where tending to the emotional needs of rescued farm animals is of the utmost importance.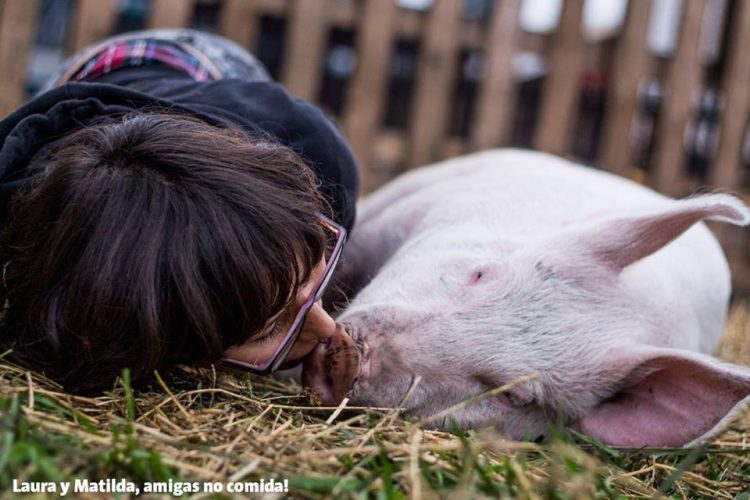 Photo: Santuario Igualdad Interspecie
Located in El Monte, about 50 km from Chile's capital city of Santiago, Santuario Igualdad Interspecie is the brainchild of Ariel Maluenda (32) and Marisol de la Reguera, two vegan animal activists who decided that they needed to do something to help victims of human greed and cruelty.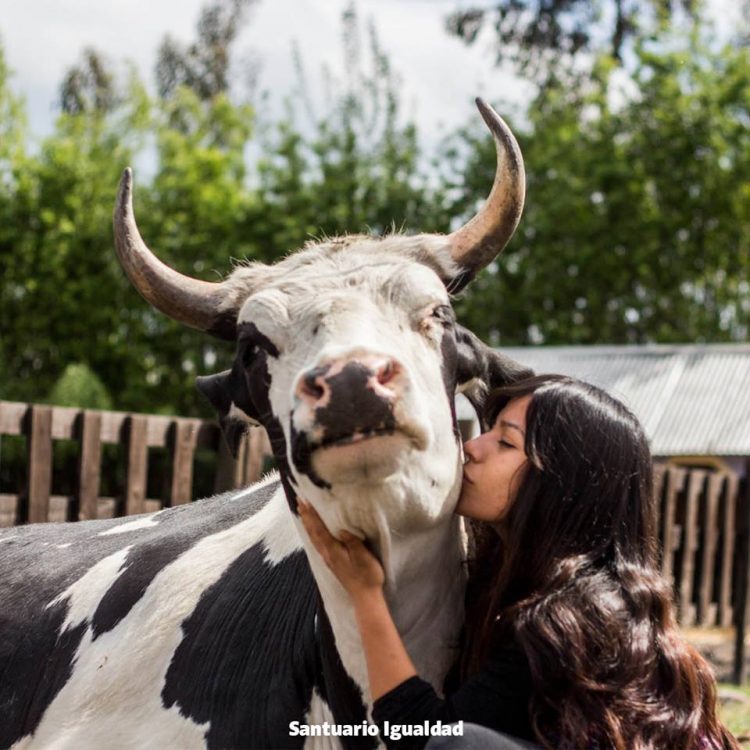 Photo: Santuario Igualdad Interspecie
Ariel and Marisol came up with the idea for their sanctuary in 2011, when they were both members of Organización Veganismo, a national organization fighting for the rights of animals. They spent several months documenting what went on in the meat, poultry and dairy industries, traveling all over Chile and infiltrating farms and slaughterhouses so they could show the world the dark side of the food business. As vegans, it wasn't easy for them to face the harsh reality first hand, but they needed solid proof to convince more people to join their cause.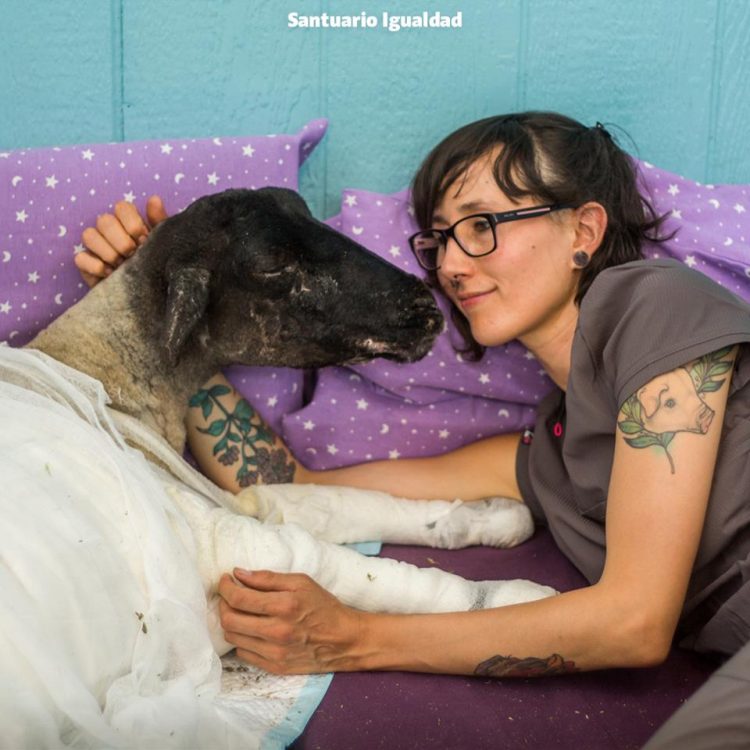 Photo: Santuario Igualdad Interspecie
Their work materialized in a couple of eye-opening documentaries called "Orphaned Milk" and "McDonald's: Beyond the Hamburger", which caused public uproar and were covered by both national and foreign media. Their findings sparked heated debates on national television, and rallied people to their cause, so you could say that the two activists fulfilled their mission, at least in part.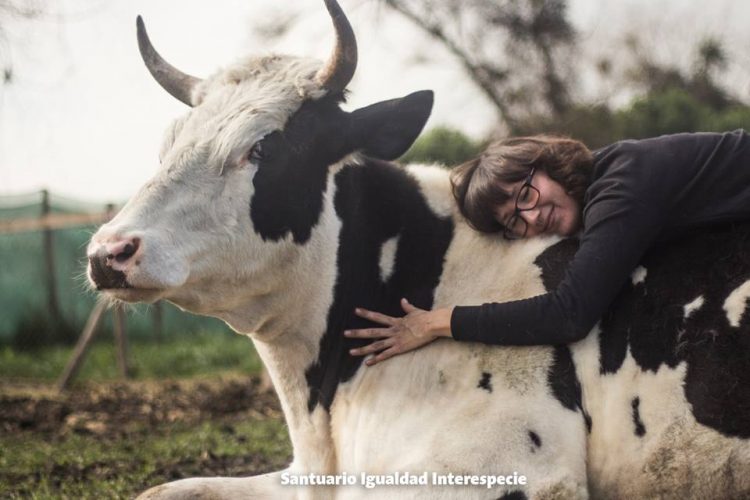 Photo: Santuario Igualdad Interspecie
But witnessing what farm animals went through first hand, made Ariel and Marisol that they had to do more than raise awareness and expose bad practices. During their investigation, they saw newborn animals being left for dead, and those who were no longer profitable for farmers get sent to the slaughterhouse, and decided something had to be done to help them. Chilean rescue centers sometimes managed to saved these animals from their gruesome fate, but, most often than not, they had nowhere to take them, so they eventually had to be put down.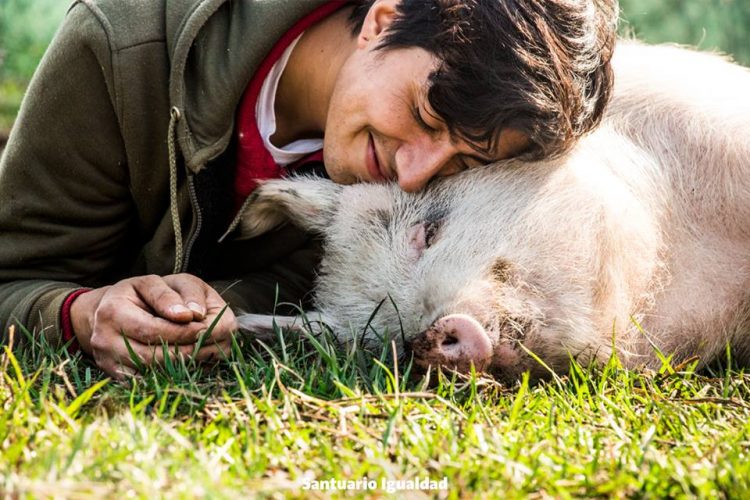 Photo: Santuario Igualdad Interspecie
Borrowing money from banks, family and friends, as well as all their savings, Maluenda and de la Reguera founded Santuario Igualdad Interspecie, a place where rescued farm animals could spend the rest of their natural lives happy and free.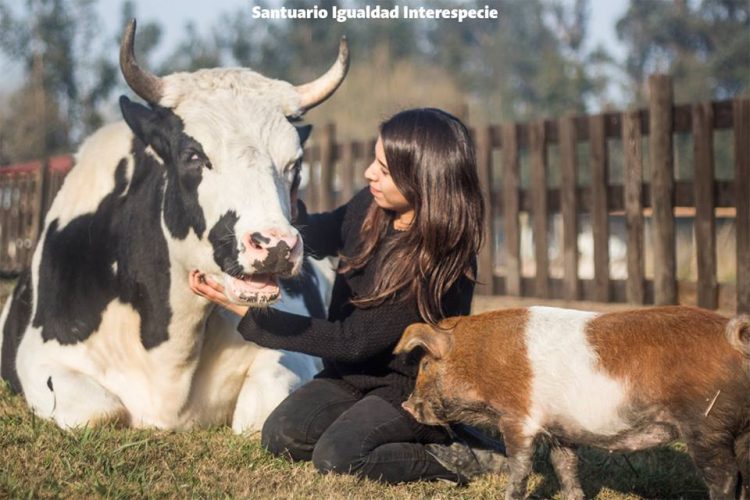 Photo: Santuario Igualdad Interspecie
As word spread about this incredible place, animals began to arrive. Calves from the dairy industry that their owners deemed disposable, goats, pigs, ducks and chickens, any abandoned farm animal was more than welcome at the sanctuary of El Monte.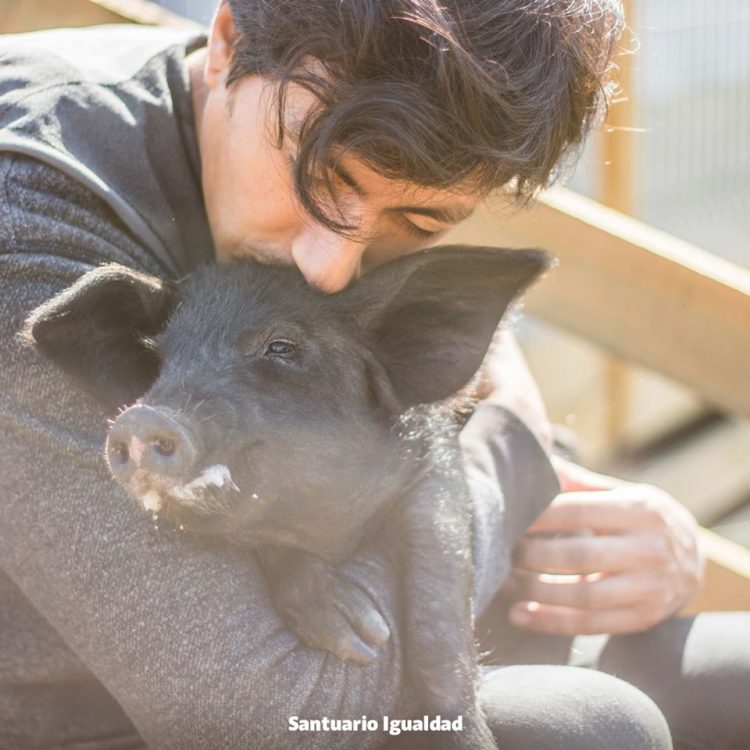 Photo: Santuario Igualdad Interspecie
"Something that we learned during our research is that perfectly healthy newborn male animals are almost instantly killed or left to die, because they are not profitable," Ariel told Mestizos Magazine. "We know that it is not easy to find a home for rescued farm animals, so if anyone knows of someone who needs a home, we are happy to receive them and give them all the love they deserve."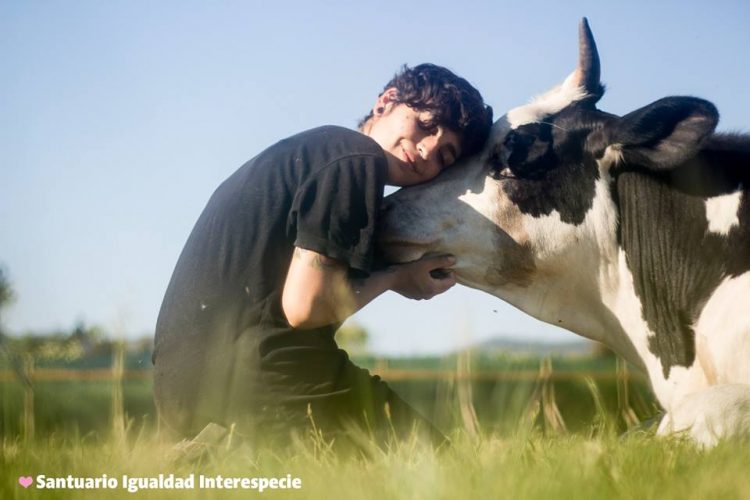 Photo: Santuario Igualdad Interspecie
Love and affection are really important at Santuario Igualdad, and, as you can see in the embedded videos, Ariel and Marisol dedicate a lot of their time to connecting with the animals. They believe that one of their main responsibilities is to ensure that the animals emotional needs are taken care of.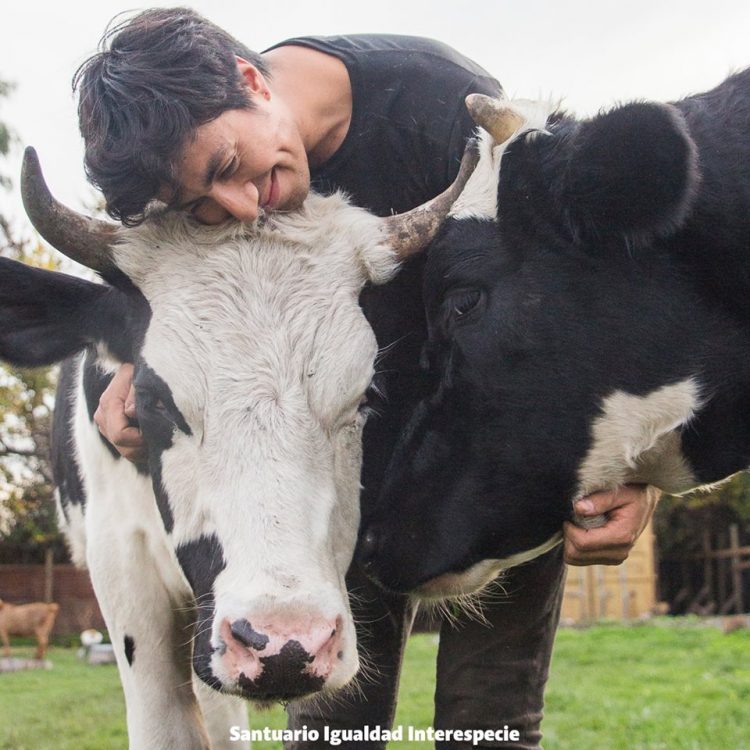 Photo: Santuario Igualdad Interspecie
"Farm animals have no place in our society outside the centers of exploitation where they live a miserable life that usually ends with their death in a slaughterhouse. Victims who are lucky enough to escape this hell, usually have no safe place to go," the Santuario Igualdad website states. "Our purpose as a sanctuary is to change this. We create a place for previously exploited animals to be free; a safe and permanent home where we return what was stolen from the moment they were born: their life and their freedom."
"Inside the sanctuary animals are respected and cared for. We take care of giving the refugees all the veterinary and nutritional care they require, as well as attending to their emotional needs so that they can leave behind their past of cruelty and thus can develop as individuals and express their preferences and interests without them being inhibited.
Today, nearly 100 animals life at Santuario Igualdad Interspecie, but Ariel and Marisol hope to be able to expand their facility, so they can welcome hundreds more abandoned farm animals. To do this, they need the help of like-minded animal lovers. You can volunteer to work at the sanctuary for one day a week, or, more importantly, make a financial contribution, either as a one-time donation or monthly contribution. You can also become "godfather" to one or more of the animals, contributing to their needs, and in return you receive monthly pictures and updates about your godson(s), as well as the chance to visit them whenever you like.
For more incredible animal sanctuaries, check out The Promised Land of Pigs, a retirement home in the Netherlands where you can cuddle with friendly pigs, and this farm in Switzerland where you can interact with cows as a form of therapy.