For the last 22 years, the Promised Land of Pigs, a unique farm in Amstelveen, the Netherlands, has been a haven for hundreds of pigs that would have otherwise been slaughtered and sold piece by piece at a supermarket. Here, they enjoy a peaceful, comfortable existence complete with hugs and weekly massages until the end of their natural lives.
The Promised Land of Pigs (Beloofde Varkensland) is a non-profit organization founded by Dafne Westerhof, an activist militating for the humane treatment of farm animals. For over two decades she has saved hundreds of pigs, either by buying them straight from slaughterhouses, or taking them in from breeders who no longer had use for them or had become too attached to them to have them butchered. Whatever the reason, she's always been more than happy to accept new pigs into her "Lucky Family" (Familie Bofkont) and give them the life she thinks they deserve.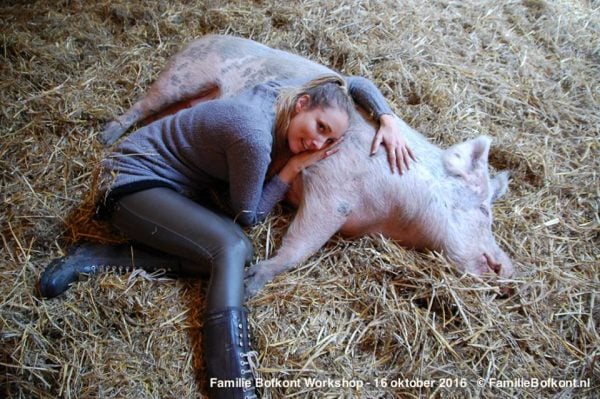 Photo: Promised Land of Pigs/Facebook
Even though she has a team of volunteers to help her take care of the pigs, and is lucky enough to receive donations from like-minded animal lovers so she can keep this swine sanctuary going, looking after the animals is still a full-time job for Dafne. She spends most days preparing their feed, cleaning their pens, and making sure they are all healthy. When she's not at the Promised Land of Pigs, she's most likely in the "pig ambulance", an old bus converted into a mobile operating room used to neuter, microchip and examine pigs in the area.
Many wonder where Dafne gets the energy to do so much day in and day out. "I get my strength from these animals. Their resilience is enormous," she answers.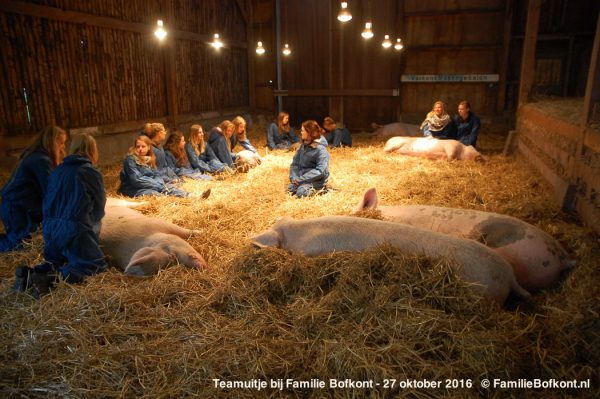 Photo: Promised Land of Pigs/Facebook
The Promised Land of Pigs has plenty of muddied land for the pigs to frolic in, as well as hay covered pens, a large workshop where they interact with human visitors, as well as a special area for sick animals suffering from dementia or serious joint problems live undisturbed.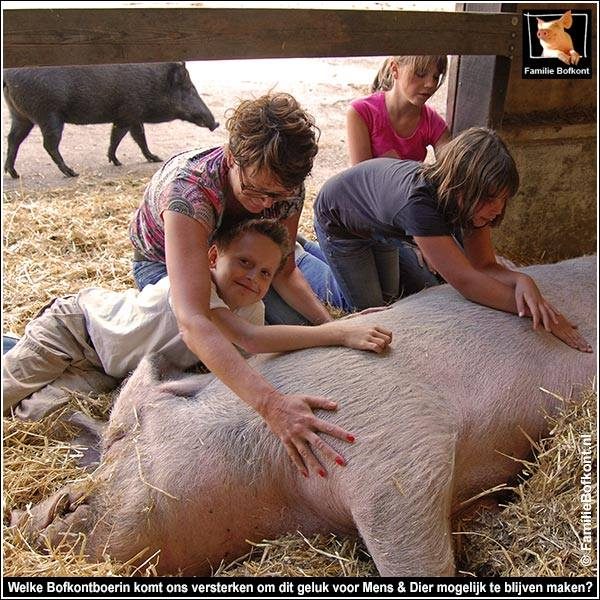 Photo: Promised Land of Pigs/Facebook
Every week, the Promised Land of Pigs holds educational workshops where animal lovers can learn more about pigs and their plight at the hands of an unsustainable meat industry. They can also interact with the animals, by hugging and massaging them on a thick, comfortable bed of straw.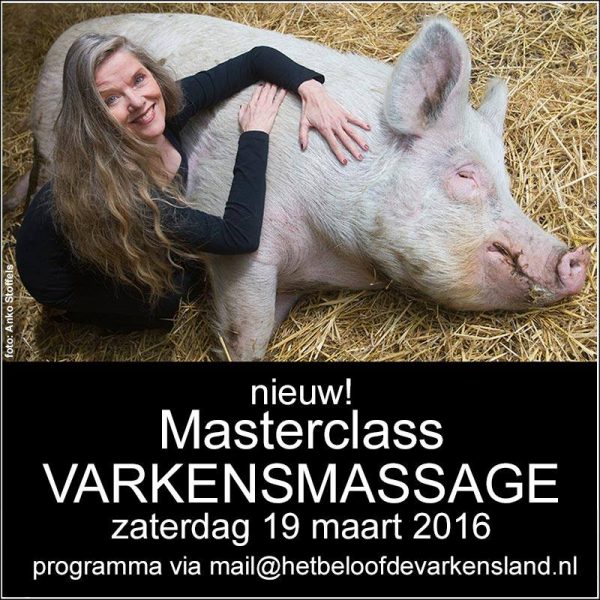 Photo: Promised Land of Pigs/Facebook
Most of the pigs at this unique farm are already accustomed to human visitors, and as soon as they are allowed into the workshop barn they start rubbing against their guests asking for a massage. They then drop on one side and enjoy the affection. It's a surreal experience that many people don't ever dream of experiencing in the company of pigs.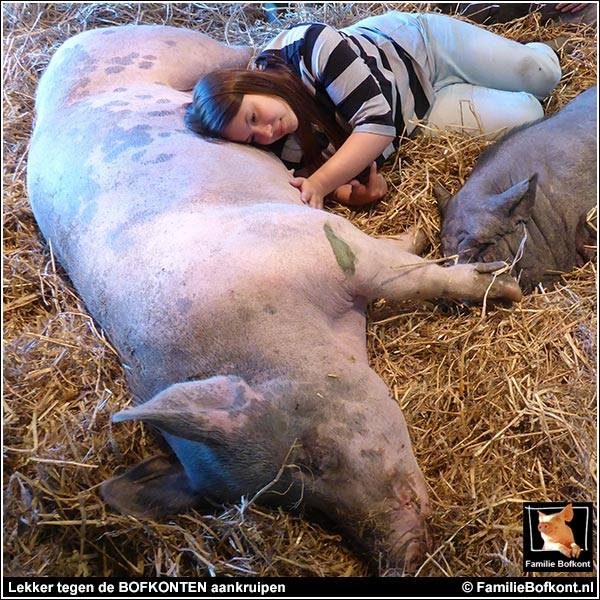 Photo: Promised Land of Pigs/Facebook
This year, on January 22, disaster struck at the Promised Land of Pigs. At 10:30 pm, Dafne got a call from a crying neighbor who told her that one of the main buildings on her farm was on fire. When she got there, firefighters and police were already at work, but all she could think of was if her beloved animals had made it out of the shelter alive. By some miracle, only Sailor, a large pig she had bough from a slaughterhouse nine years ago, for 2,000 euros, had suffered some burning. But he was going to be ok, and all the other pigs had escaped unharmed.
The damage to the pig shelter was considerable, but luckily for Dafne and her Lucky Family of pigs, they had plenty of friends looking to help. Just a few days after posting about the fire on Facebook, Dafne Westerhof had already received 86,000 euros for rebuilding. They survived, and so would The Promised Land of Pigs.
Sources: The Green Happiness, NRC, VICE Munchies, Parool