When a Ukrainian family returned to their war-ravaged home in Hostomel after four months, the last thing they expected to find was their beloved pet husky, Belyi.
In March of this year, when Russia started targeting Hostomel's strategically important airport with its artillery, 35-year-old Kateryna Tytova and her family had to make a heartbreaking decision. Kateryna, her husband Olexandr and their two young children fled the city and left their white husky, Belyi behind. It sounds cruel, but those were desperate times. Russians were advancing, there was shelling around the airport, and there was no time to plan their escape. A photo of Kateryna holding her 5-year-old's daughter as they run from artillery shelling has made international headlines. But despite leaving Belyi behind, the family always hoped he would be waiting for them when they came back.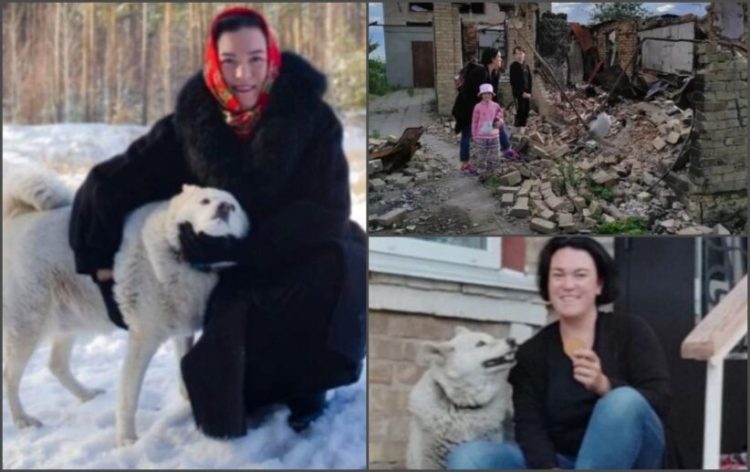 Those hopes, however, started weaning as the months past and they saw their hometown being rendered to rubble by invading forces. Still, as soon as it was safe, they left their friends' house in Vinnytsia, where they had taken refuge, and returned home. And guess who was patiently waiting for them when they arrived?
"It is nothing short of a miracle he survived without us," a crying Kateryna told reporters. "He was waiting patiently as if we'd popped out to the shops, rather than being away for months after running for our lives. I cry at seeing what is left of our town now. But Belyi being alive feels like a gift, and something positive to cling to as we try to rebuild our shattered lives."
It's believed that the Siberian husky somehow survived the shelling and stayed alive scavenging for food through the rubble. He also survived the Russian soldiers who had obviously ransacked the family home, but when his owners returned, he was waiting for them on the doorstep.
This is just one of the many heartwarming examples of dog loyalty we've featured on Oddity Central.