Bosco Vericale is a unique residential complex in the center of Milan, Italy. It consists of two towers that stand 80 and 112 meters high and are covered in plants and trees giving them the look that inspired their name – vertical forest.
Designed by a team of architects at Boeri Studio, Bosco Verticale was designed as a "home for trees that also houses humans and birds". It was inaugurated in October 2014, in Milan's Porta Nuova Isola area, as part of a wider renovation project. The two towers are home to a total of 800 trees (480 first and second stage trees, 300 smaller ones), 15,000 perennials and/or ground covering plants and 5,000 shrubs. That amounts to 30,000 square meters of woodland and undergrowth, concentrated on 3,000 square meters of urban surface. And the vegetation is not just for show, it serves a purpose that the residents themselves acknowledge.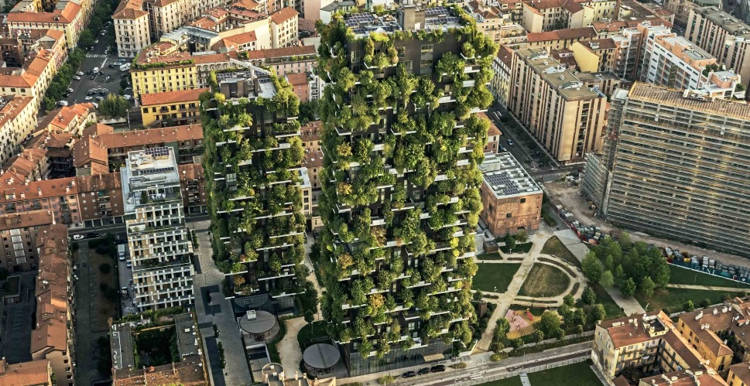 Photo: Boeri Studio
"Unlike 'mineral' facades in glass or stone, the plant-based shield does not reflect or magnify the sun's rays but filters them thereby creating a welcoming internal microclimate without harmful effects on the environment," the Boeri Studio website reads. "At the same time, the green curtain "regulates" humidity, produces oxygen and absorbs CO2and microparticles, a combination of characteristics that have brought the project a number of important awards."
View this post on Instagram
That sounds like the marketing-oriented description an architecture studio would use to promote its work, but in the case of Bosco Verticale, these claims are backed by the testimonies of residents who have lived in these two towers for years. CNBC recently ran a piece on this unique residential development and learned that the vegetation has a positive effect on residents in more ways than one.
View this post on Instagram
"I've been living at the Bosco Verticale since its opening," Simona Pizzi told the news outlet. "It doesn't feel like we're living right in the middle of busy Milan, where everything goes quite fast."
View this post on Instagram
"Having these plants right on the terrace, real trees, has certainly had a positive impact on my life," Pizzi added. "It brings (the) temperature down in the summer and it feels like these plants have generated a microclimate, it's very pleasant. In the winter, we use less heating thanks to this greenhouse effect and in the summer, we use less air conditioning because the air is cooler."
View this post on Instagram
This concept certainly isn't the new, in fact we've featured several similar buildings in the past, including Edificio Santalaia, a plant-covered building in the middle of Bogota, Colombia, or the Qiyi City Forest Garden residential complex in Chengdu, China. But they're not all success stories. For example, the the Qiyi City Forest Garden recently made international news headlines after becoming a mosquito-infected, unkept jungle. So how does Bosco Verticale maintain its pristine look?
View this post on Instagram
Apparently it's thanks to the "Flying Gardeners", a specialized team of arborists-climbers who, once a year , descend from the roof of the two towers, using mountaineering techniques, to carry out pruning, routine maintenance, or any necessary substitution on the plants. Irrigation is centralized, with the plants being constantly monitored by a digital and automated system.
View this post on Instagram
A few years after its inauguration, Milan's Bosco Verticale also became home to a number of animals insects, including about 1,600 specimens of birds and butterflies, all of which live in harmony with the human inhabitants.