Looking at the edible masterpieces of culinary artist and Instagram sensation mikyoui00, it's hard to believe his journey into the world of food art began as a way of getting his son interested in cooking.
mikyoui00 never had any professional art or design training, but he was always passionate about food preparation and plating, and wanted to instill that same kind of love in his son. But getting a young boy interested in cooking isn't the easiest thing in the world, and his father quickly realized he needed to think outside the box to make it happen. In the summer of 2017, he started working with fish and teaching his son the art of slicing and plating sashimi by creating all kinds of cool edible art. It was a fun activity that allowed them to bond over something he loved, and the more time he spent coming up with new sashimi designs, the better he got at it.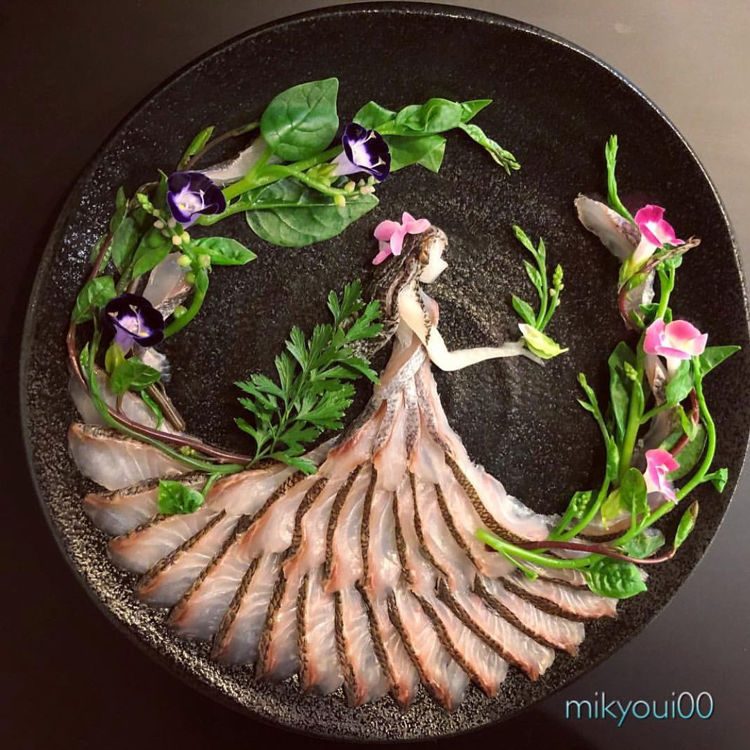 Photo: mikyoui00/Instagram
"My job has nothing to do with art or design," mikyoui00 told Fuji News Network. "I really started working with fish during the summer of last year. I wanted to teach my son about how to slice and prepare sashimi, and over the course of teaching him, I ended up really getting into it myself."
View this post on Instagram
The amateur sashimi artist would watch YouTube videos and follow professional chefs online to learn more and more difficult techniques, and often challenged himself to reproduce some of their most impressive projects. He started posting his best works on Instagram and people started taking notice. His page now has nearly 40,000 followers, and photos of his sashimi masterpieces are doing the rounds on social media and popular art-related sites like Bored Panda.
View this post on Instagram
mikyoui00's skills improved the more time he dedicated to creating sashimi artworks, and before he knew it, the fun activity he had come up with to catch his son's attention became his biggest passion. He began experimenting with different kinds of fish, quickly learning which types worked best for different techniques, and paying as much attention to detail as possible. The complexity of his artworks increased with every new project, to the point where his sashimi looked way too good to eat.
View this post on Instagram
Many of the people who see mikyoui00's amazing sashimi plating assume that he is a famous chef with years of experience under his belt, when really he is just an amateur cook who accidentally got into edible art as a way of bonding with his son, less than two years ago. Somehow, that just makes his art that much more impressive.
View this post on Instagram
View this post on Instagram
View this post on Instagram
View this post on Instagram
View this post on Instagram
View this post on Instagram