It's hard saying goodbye to your favorite pair of jeans, even when they're way beyond wearable, but English artist Ian Berry has found a way to avoid throwing away denim, by using it to create beautiful works of art.
Netherton-born artist Ian Berry, aka Denimu, has made quite a name for himself after his unique art took the art world by storm. It's hard to believe the idea of using old denim as medium for his art came after a call from his mother, Christine, asking him to clean out his room.: "It was about six or seven years ago my mum was clearing out my old room and she wanted me to go through my things. I found loads of old jeans and denims and I noticed the different colors and shades. I kept hold of them but it was only about 18 months later I began to do something with them." Little did he know his experiment would soon make him and his denim art famous all over the world.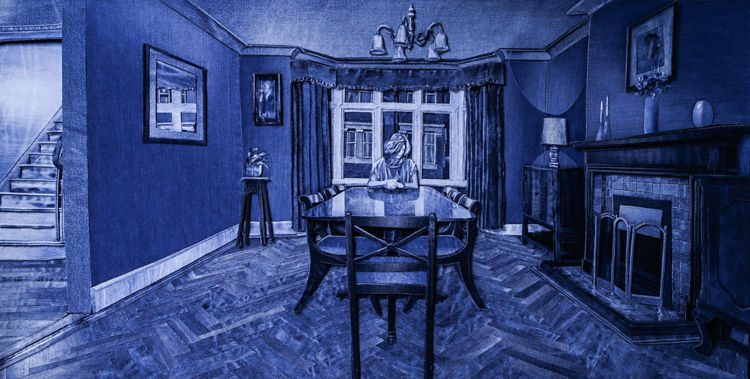 Photo: Ian Berry
Ian Berry quit his full time job in advertising to focus all his attention on art. It was a risky move, and he remembers his girlfriend's parents asking if artists could make a living in this day and age. But his gamble paid off and soon his denim artworks were the stars of sell-out shows in Sweden and the US, and his pieces were sold to private and public collections all over the world.
View this post on Instagram
Iain Barratt, director of the Catto Gallery, told the Examiner: "It's extraordinary what Ian does, it's not until people see it close up and touch it they can see how he's created these wonderful scenes. And what absolute treasures they are. Ian conjures remarkably detailed portraits and urban landscapes using nothing more than discarded jeans – the effect is extraordinary."
View this post on Instagram
Denim art is as simple as it is beautiful. Ian Berry uses old jeans, a pair of scissors and some glue to create all his incredible detailed works of art. After 12 years of working with denim, the English artist has managed to fill seven closets with old pairs of jeans, so it's safe to say he has plenty of material for his future works.
View this post on Instagram
View this post on Instagram
View this post on Instagram
View this post on Instagram
View this post on Instagram
View this post on Instagram