Seen from up close, the creations of Swiss artist Simon Berger look more like vandalism, but take a few steps back and you'll notice the cracks in the smashed glass panes form clear and complex portraits and images.
Berger admits that as an artist, he had the desire to be taken seriously, to attract attention, and the easiest way to do that was to use a material or a creative technique than no one had used before. The trained carpenter decided that laminated glass was not very popular as an artistic medium, so he started experimenting with it, developing an original technique that involved smashing the glass with hammer and chisel to create detailed and recognizable patterns. Having honed his skills, Simon Berger is now able to wield this wilful destruction to create stunning human portraits that are only visible from afar.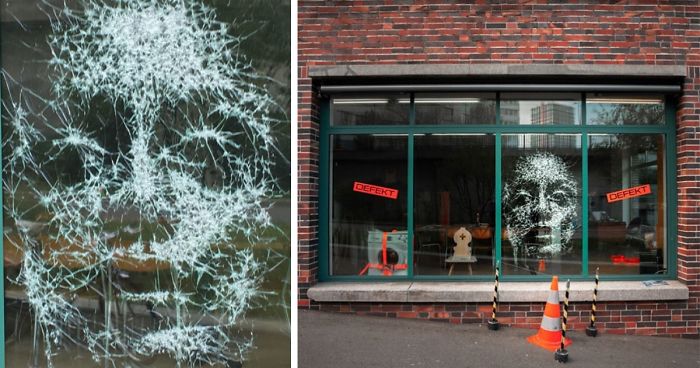 Photo: Simon Berger
The Swiss artist begins the creative process by taking photos of models whose portraits he plans to smash onto the panes of laminated glass. He then processes the photos on his laptop and prints out the final version. When he's ready to start working on the pane of glass, Berger uses marker to mark the areas he should smash with the hammer more, and those that shouldn't be smashed at all. He told DW's Euromaxxx that the grey areas that only require a bit of smashing are the most difficult, because even a hammer blow too many can ruin the whole artwork.
View this post on Instagram
Simon Berger prefers laminated glass because it doesn't shatter the first time you strike it with a hammer or chisel, but it's still remarkable how he's able to control how the small cracks develop to leave his portraits looking so detailed. His favorite medium is cars' windshields, but he can also work on laminated glass storefronts, as he recently demonstrated.
View this post on Instagram
Simon Berger's stunning art got a lot of attention after his most recent creation, a woman's portrait painstakingly smashed into the glass storefront of a Basel shop was featured on Bored Panda. The photos posted there quickly went viral and spread on social media, leaving most viewers in awe.
View this post on Instagram
"Human faces have always fascinated me," the artist said. "On safety glass, these motifs come into their own and magically attract visitors. It is a discovery from abstract fogging to figurative perception."
View this post on Instagram
For more of Simon Berger's innovative art,check out his official website and Facebook page.